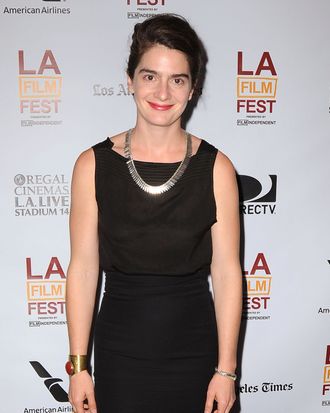 Photo: Andreas Branch/Patrick McMullan
Gaby Hoffmann started her childhood living in New York's bohemian, druggy Chelsea Hotel. As she tells the Times, "We lived in a classless society. We'd spend a summer at Gore Vidal's house in Italy, but we were on and off welfare." Well, until she became a precocious, adorable child star, starring in movies like Uncle Buck, Now and Then, and Sleepless in Seattle. She quit the biz when she was 17.
Taffy Brodesser-Ackner, who wrote the profile, finds the star has grown into a Beyonce-loving, indie-web-series-making Brooklyn actress with a requisite story arc on season 3 of Girls.  In the piece, Hoffmann, now 31 and living in Fort Greene, waxes nostalgic for the gritty city of her youth. The one that produced real artists; where she could find crack vials in the Chelsea Hotel's hallway and have arguments in the LES's Pink Pony bar. Brodesser-Ackner writes:
There's a Whole Foods on 14th Street. The Palladium is an N.Y.U. dorm called the Palladium. Times Square is so bright and shiny that you can practically see it from space. Nobody has pubic hair anymore. And the Chelsea Hotel, a onetime stalwart symbol of all that was great and dirty and scrappy in this city, has been sold, and Gaby Hoffmann can do no more than squint through the dirty windows and scaffolding to see what used to be her home.
Hoffman still clings to the comforts of childhood, as she reveals in an anecdote from the Sundance premiere of her movie Crystal Fairy and the Magical Cactus — she spends most of the movie naked, dancing.
At a party following the film's debut at Sundance, two women approached her to compliment her performance and then ask how she'd gotten the merkin — a pubic wig — to adhere. 'No,' she explained to the two women. 'That's just me. I'm a human. I have hair.'
Crystal Fairy and the Magical Cactus opens this Friday, so we can finally figure out why people would assume she's wearing a merkin.