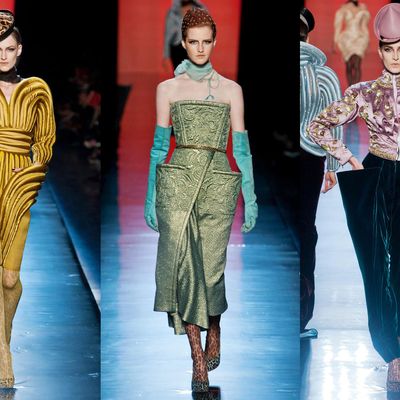 If models at today's Jean Paul Gaultier show wanted to keep an extra meal on hand for convenience, then they were in luck: Most of the dresses had enormous pockets, some so large you could fit a whole picnic in there. In fact, putting stuff in there could be risky, because it might get lost in those giant quilted folds, and the next thing you know you've got a three-day-old sandwich kicking around in your skirt.
But in all seriousness, this show was fun and over-the-top in all of Gaultier's usual ways, which was nice to see as he gears up to launch a more commercial diffusion line, Gaultier2. Just because he's trying to tap into the mass consumer market doesn't mean he's abandoning his wacky couture designs. (Our only qualm: Where was Andrej Pejic?)
Other highlights: leopard-print everything, including tights and sequined jackets. The show concluded with French reality TV star Nabilla Benattia, who danced down the catwalk in a padded bustier and Cindy Lou Who hair. Tacky in the best way, as always.