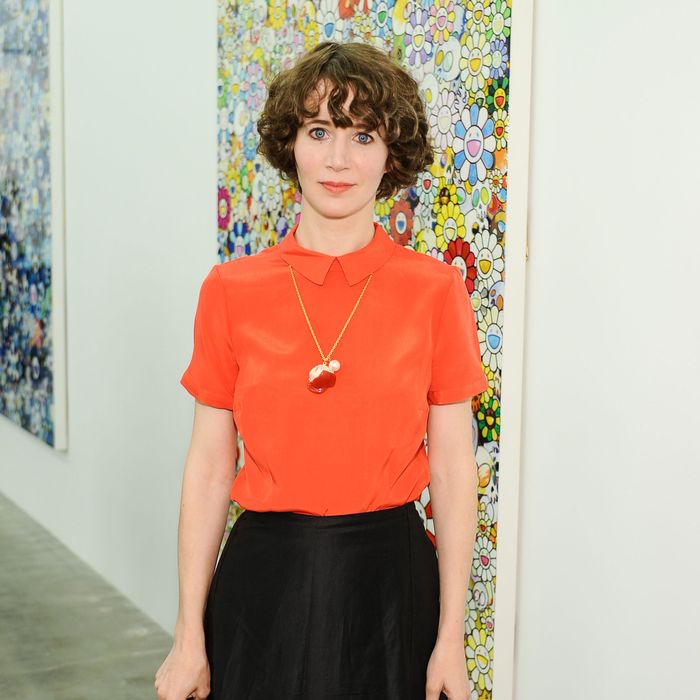 Photo: Stefanie Keenan/Getty Images
Lena Dunham, Kirsten Dunst, the Mulleavy sisters (of Rodarte), and even Kareem Abdul-Jabbar have given the performance artist Miranda July access to their personal e-mails. As part of her new interactive work, We Think Alone, July forwards e-mails from the eclectic group to selected subscribers, and each week has a different theme. As she tells WWD, "Why create something when there is already so much ready-made material with all the e-mails out there?" Over the next ten weeks, e-mails will reveal private celebrity lives, with the Rodarte designers of particular note: "Anyone who knows them will know how very 'them' their choices were," July explains. "But people who don't know them won't get to know them much better. But their sense of humor really comes through."
Last Monday, the theme was money, and Dunham revealed that she wouldn't spend $24,000 on a Liljevalch Sofa; Kirsten Dunst sold her car for a cool $7,000. This week, subscribers received e-mails that gave advice. Kareem Abdul-Jabbar gave a young NBA hopeful solid advice about staying in school and playing for love of the game. Still, the most revealing dirt came from Dunham, the Mulleavys, and Dunst:
———- Forwarded message ———-
From: Rodarte
Sent: Thursday, April 21, 2011 3:03 PM
To: V
Subject: RE:!

whiskey sours!!!!!!!!!!!!!!!!!!!!!!!!!!!!!!!!!!!!!!!!!!!
———- Forwarded message ———-
From: Lena Dunham
Date: Sun, Feb 12, 2012 at 7:42 PM
Subject: Re: facebook
To: K
 
Listen to me. I am a woman who loves and adores and, I believe, understands you. You did nothing wrong. He is NOT NICE. He says not nice things in a nice voice so they seem nice but they are not. He isn't kind or careful with you, he wants to suck the kindness out of you, and if he's like this after 10 years of group therapy then G-d help us all. He's not for you bc he's not for anyone. Do you hear me? Good. I understand SO much the appeal, but he's not worth your energy and someone like art guy may not be perfect or right but he's starting on a good foot by offering some of himself to you and wanting to give you pleasureful times
 
Ok my lecture is done
 
Love
 

———- Note ———-

 Kirsten Dunst was unable to locate an e-mail that gives advice.