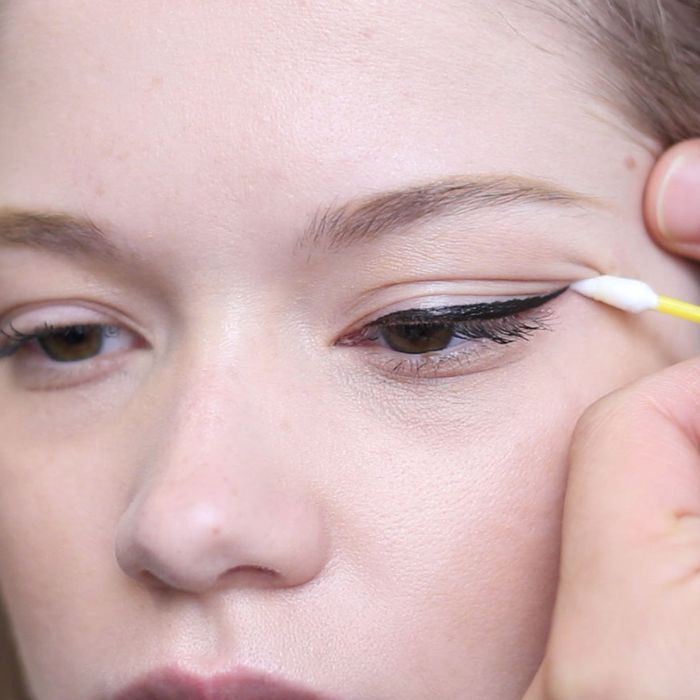 In this  series, makeup artist Daniel Martin helps us understand the art of makeup application through step-by-step GIF tutorials.
Liquid liner first popped up in the sixties and as soon as it hit shelves, everyone seemed to have inherent skills on how to deftly apply it. Twiggy-eyes were spotted everywhere from Pan Am stewardesses to the era's go-go dancers and housewives alike. But as that style went the way of the beehive, ladies fell out of practice and the perfectly drawn on, graphic eye fell out of favor. It can certainly be difficult to get that line so damn straight, but unlike in the last century, when liners had flimsy brush tips, current iterations offer firmer felt-tip points, making for an easier, more precise application. If you can draw with a marker, you can do this. So click through to see Martin's tutorial, then select a liquid liner that works for you.

Step 1: Apply mascara to your top lashes. Martin likes to use the mascara-ed lashes as a "guard" to keep the liner's tip steady while also filling in between the lashes for a close, tight line.
Step 2: Gently pull eye lid skin taught, this creates a smoother surface to work on. Starting from the outer corner, lightly draw a line toward the center. Then do the same starting from the inner corner. Tip: Don't try to make the line in one fell swoop. Treat it like a sketch; you can go back and perfect later.
Step 3: Take a Q-tip (the pointier the tip, the better) and while the liner is still wet, pull the end of the line out. This breaks down the pigment and creates a guide for you to trace over for that cat eye flick.
Step 4: Trace over the pulled-out Q-tip line, starting from the outside in.
The final look.