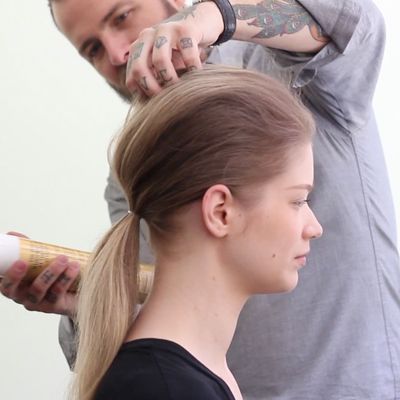 In a new series, hairstylist Wesley O'Meara helps us understand the art of hairstyling through step-by-step moving image tutorials.
So you've learned how to use those Velcro rollers to add volume. But day three of your blowout requires a new take on your amped-up hair: Sweep it back into a sophisticated, grown-up pony. It's more controlled and sits just below that bump in the back of your head (the occipital bone), kind of like where dude ponytails are usually located. And "covering the ponytail elastic makes the difference between going out at night and going to the grocery store," O'Meara explains.
Here, Redken's Quick Tease Backcombing spray was used to give extra volume during the teasing process and L'Oreal's Elnet provided styling control. Use any hairspray you prefer.
Step 1: Section by action, lightly tease hair and spritz hair spray into the roots. Tease through the "volume zone" (in the front of the head) to the back occipital bone. Tip: A boar bristle brush, made for teasing, won't tangle and knot up hair. Paddle brushes and combs have a tendency to break hair. 

Step 2: After teasing, gently brush back hair. Add more hairspray to help with control, instead of more brushing, which will only flatten out all that teasing you just finished.  

Step 3: Use your fingers to scrape hair back into a pony. Tip: The more imperfections there are, the more elegant it will look.

Step 4: Tie down the ponytail at the top of your neck.

Step 5: Use your fingers to push up hair, which adds more lift at the roots.

Step 6: Grab a piece of hair from underneath the ponytail and wrap it around the elastic a few times. To secure the end, take a French pin and weave it through the elastic by entering the pony, then inverting the pin before securing it.

Step 7: Finish with a last squirt of hairspray for hold.

Step 8: Pull a few little pieces of hair out from the sides for a soft, more wispy effect.

The finished look.