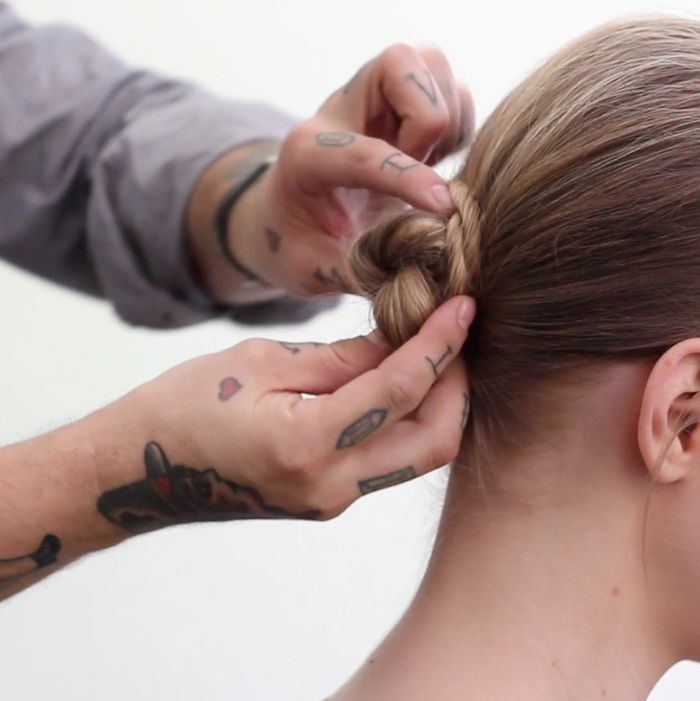 In this series, hairstylist Wesley O'Meara helps us understand the art of hairstyling through step-by-step moving-image tutorials.
As showcased by Audrey Hepburn, Lee Radziwill, and all the models at the Jason Wu show, the chignon is one hairstyle that seems to surpass trends. Whether pulled up tight into a ballerina bun or loosely pinned together à la Katharine Hepburn in her later years, the chignon can be structural and stark or soft and haphazard. O'Meara chooses to take a more whimsical route with his woven chignon. Scroll down to see his rather uncomplicated and easy 'do for summer.
First begin with steps one through four from the grown-up ponytail tutorial.

Step 5: Split the ponytail into two sections.
Step 6: Tease each section.
Step 7: Twist the two sections together, turning your wrist inwards along with each twist.

Step 8: Secure the end with an elastic.
Step 9: Wrap the twist up into a bun shape. It should now look like a chignon with a woven effect.

Step 10: Secure the chignon to the head with bobby pins.