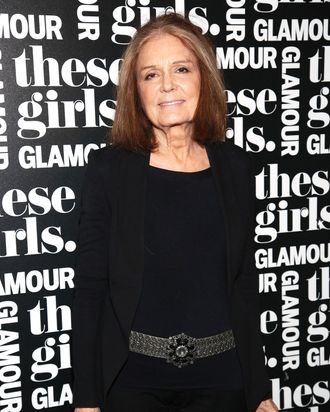 Photo: Astrid Stawiarz/Getty Images
To determine how New York City women feel about Huma Abedin's decision to stand by her relapsed sexter husband Anthony Weiner, the New York Times surveyed Everywomen on their lunch breaks ("sipping sparkling water" as they "touched on the usual topics of lunchtime gossip: men, work, relationships") — and Gloria Steinem. The Everywomen and the Ms. founder were virtually unanimous in their perplexed sympathy. Steinem told the Times:
"I have no way of knowing whether Huma, for whom I have great respect, is responding out of new motherhood, the Stockholm syndrome or a mystery … I strongly object to holding one spouse responsible for the other's acts … He's the one who should get out of the race."
Let's not show her the cover of this morning's New York Post, then.