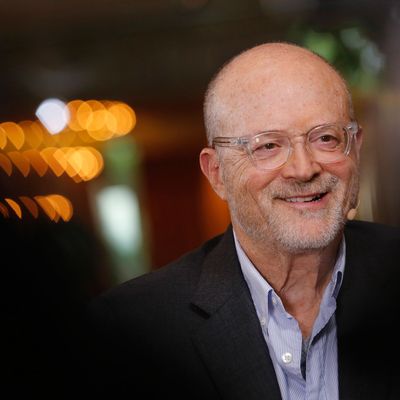 Photo: Bloomberg/Getty Images
A personal essay by Forbes writer Chris DeRose chronicles exactly what happens when you write an angry letter to J.Crew's customer service. If you malign their styling choices enough, CEO Mickey Drexler responds with a personal phone call.
DeRose's wife fired off an irate e-mail after receiving a preview of the company's fall-winter line. "I am so disheartened and disappointed that you are leaving your core values and styling and abandoning your loyal customers," said Mrs. DeRose, fed up with the look of quirky-prep that has become the brand's identity since Jenna Lyons took over design in 2008. Surprising given that both the fashion world and consumers have responded with nothing but praise. Even more surprising is Drexler's response to the message.
In a personal phone call and follow-up e-mail, Drexler promised Mrs. DeRose " … that in the company's desire to embrace change, the team also shared the view that some of the styling had perhaps strayed too far from the classics and brand messaging for which J.crew had become known." He continued later with the promise that DeRose's complaints had not gone unfounded, and things would be different in fall.
Oh, Mickey. We understand the concept that one customer might represent the opinion of thousands, so should be taken seriously — and the act of personally responding was admirable — but that response seems a little over-the-top. Badmouthing or apologizing for the work of Jenna Lyons, who put that company back on the map, seems kind of short-sighted. Not to mention that Lyons was on vacation when the call took place.
Lyons, who is executive creative director and one of American fashion's most influential and well-liked designers, is credited with breathing new life into J.Crew. The brand, which has seen sales triple to 2.2 billion since 2003, reports Fast Company, is revered with near cult status. It's fresh, fun, cheeky, and aspirational — the antidote to mall boredom.
Mrs. DeRose also wrote in her message, "I would have thought you learned your lesson at the Gap!! Why mess with these iconic brands and change them into something." That's called evolution, something every brand has to do to stay relevant — as Gap sadly failed to do. J.Crew, the brand that can count Michelle Obama and Anna Wintour as fans, resurrected itself and became an iconic brand, not the opposite. And sure, maybe people are tiring of wearing giant necklaces over collared shirts, or mixing stripes with florals. Or maybe they never wore them in the first place, but it gave them something to aspire to. If Mickey intends to take J.Crew back to "core values," we hope it's not to return to some sartorial safety net of conservative chinos and twinsets. That is what Banana Republic is for.