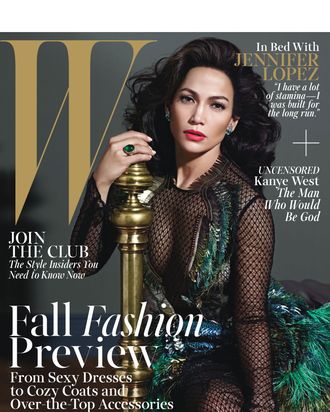 Photo: Mario Sorrenti exclusively for W/Courtesy of W
Jennifer Lopez clearly looks gorgeous on W's August cover. The accompanying article reveals that J. Lo is really happy, guys. She's a mother of two who loves to travel with her new boyfriend! She's overseeing a collaboration with Kohl's! Getting ready to celebrate twenty years of her scent, J. Love! And is a host on American Idol! She confronts some childhood demons in the Bronx and has finally learned to love L.A.! Everything is coming up J. Lo with hardly a hint of controversy!
Maybe this is why she revisits her second most controversial moment, that 2000 Grammy dress. She explains (again) how that infamous, Diddy-approved, jungle green, low-cut Versace number ended up on her back:
"We had looked at a few dresses, and nothing was right," Lopez recalled. "My stylist said, there's this one dress, but other people have worn it. I tried on the Versace and decided to wear it anyway. But I was still surprised by the reaction: When I came onstage with David Duchovny, who was the biggest star in the world then, he said to the audience, 'Nobody is looking at me,' " Lopez said, laughing. "This loud sound started from the back of the room — it was kind of like a roar, over me in the dress. When I went to my seat, I said, 'What's the big deal?!' Puffy and Benny [Medina] were waiting, and they said, 'You have to take pictures in that dress.' "
 And over a decade later, we're still talking about it.  You win, Lopez.