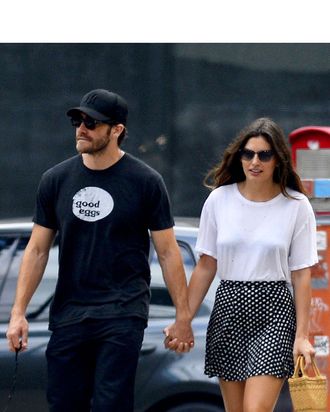 Jake Gyllenhall and Melissa Miller.
Photo: PacificCoastNews.com
On Friday, Jake Gyllenhaal and his new girlfriend, model Alyssa Miller, went to Barry's Bootcamp together. This was notable for several reasons: Not only was it their first "public" appearance as a couple, but the "gym date" signifies a certain level of seriousness (also known as "phase two" of a relationship, usually characterized by frequent sex and fewer formal dates).
To explain: It's rare for couples in the early phases of a dating to work out together, usually because they don't want to sweat and grunt and wear unflattering clothes in front of the person they're trying to impress. Others just understand that going to the gym with a buddy can be nice, but not a great way to get to know someone (two exceptions: couples who meet each other at the gym, and couples who go on hiking or other cute exercise-related-activity dates).
So, where does the gym date fall on the relationship timeline? It's safe to assume that couples who go to the gym together have already had sex, and have thus crossed the threshold of seeing one another panting, smelly, and unshowered. They might keep a change of clothes at each other's houses. They have spent enough time doing "real date" things (the ones that involve conversation) that they're cool with more mundane, non-talking activities. The gym date is roughly equivalent to shopping for groceries together, and falls somewhere after friend introductions and before family introductions.
Also of note: Unlike SoulCycle, where you can sweat with the dignity and privacy of dim lighting (and where Gyllenhaal used to go with his previous model girlfriend, Emily DiDonato), Barry's Bootcamp is unmercifully well-lit and has two mirrored walls. This isn't just a "hey, wanna come to the gym with me?" date, this is an all-out "watch my ass from multiple angles while I do power squats" date — not for the faint of heart or the weak of gluteus.
Which brings us back to Alyssa and Jake: Just three days after their Barry's Bootcamp outing, he introduced her to his mom, "Page Six" reports. It's love! Or at least the beginning of a well-publicized relationship.