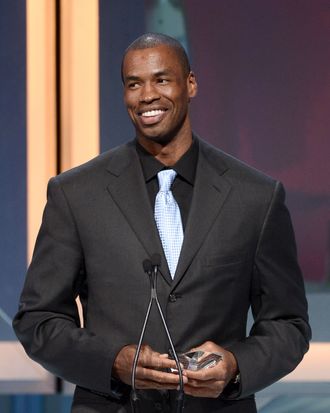 Photo: Kevin Winter/Getty Images
Carolyn Moos — the ex-fiance of trail-blazing gay NBA player Jason Collins — is in Cosmopolitan this month, describing how she was blindsided by Collins' revelation, which came almost four years after he called off their wedding, ending their eight-year relationship. Although Collins came out personally to Moos the day his Sports Illustrated tell-all hit newsstands, he didn't say anything about the article, which mentions her and drew overwhelming media attention. (She found out from a friend.) Also, he has been hard to pin down since.
"We talked again briefly that night. He answered a few questions, but there was much left to discuss and he said he had to go. As I tell this story, it has been several weeks since he told me his news and he has made no further time to talk, despite saying he would do so. I am sad that the media seems to be a higher priority. I hope this changes in the coming weeks, as I value open dialogue more than anything."
All these feelings probably could have been avoided with a little more pre-media blitz tact, but we can't blame Collins for leaving some questions unanswered now, lest those answers get relayed to us, in Cosmo or Moos's forthcoming memoir.