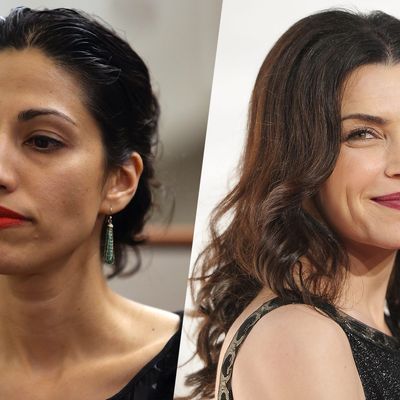 Photo: John Moore/Getty Images, Michael Loccisano/Getty Images
If Huma Abedin carried any secret hope of living down comparisons to Silda Spitzer, Hillary Clinton, and their fictional, wronged-woman counterparts, it's probably fading fast. The connection to CBS's The Good Wife hinted at by the editors of her ill-timed Harper's Bazaar essay was fortified yesterday when Julianna Margulies compared Abedin's performance at the Carlos Danger press conference to her own performance as Alicia Florrick. She reportedly said at a Television Critics Association press conference:
[Abedin] had the exact look that I tried to capture in the pilot when you first meet the Florricks and you see her standing behind her disgraced man … She had such a soul-less look. Her body was empty, her soul was somewhere else and she was just going through the motions.
Margulies reportedly called Anthony Weiner a "gift that keeps on giving," although she feels "slightly bad," adding that she has "complete compassion and empathy" for Abedin. In her defense, Margulies is hardly the only one profiting from Weiner's mistakes and Abedin's misfortune. It's been a boon to penis-art critics and Islamophobic conspiracy theorists alike. How many men will convince their girlfriends it's not cheating if it's online-only, thanks to this? Sydney Leathers is meeting with a porn mogul. The Good Wife probably isn't even the only TV show that will borrow from the scandalous saga. Has Newsroom been renewed yet?