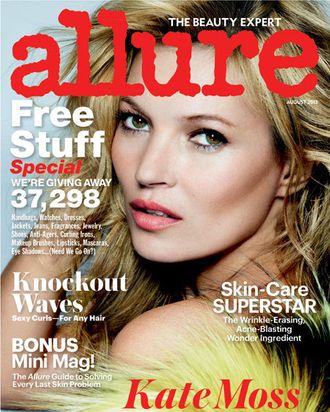 In Allure's August issue, cover girl Kate Moss breaks her "never complain, never explain" motto and gets candid, with an accompanying spread by Mario Testino. The model opens up about tabloid rumors (It's not heroin; her eyeliner is smudged), her secrets to chic (don't wear sweatpants), and tanning ("I don't mind a bikini bottom. My husband likes lines on the bum — men like white bums … I try not to have a whiteboob.") The best nugget, though, is an anecdote about her daughter, Lila Grace:

She's watched The Devil Wears Prada ten times, and she's got a desk in her room with a phone … She puts a little outfit on and picks up the phone: "Hello, Miranda Priestly's office." I say, "Lila, do you know who Miranda Priestly is in real life?" But she just doesn't care. She's like, "Hello, Miranda Priestly's office. Can you hold? Patrick Demarchelier on the line!" I died when I heard her do it. So funny. She doesn't have a clue who she is, but its word for word.
Adorable. At 7, Lila owned a Fendi bag. At 8, she's prepping for a fashion-world takeover.