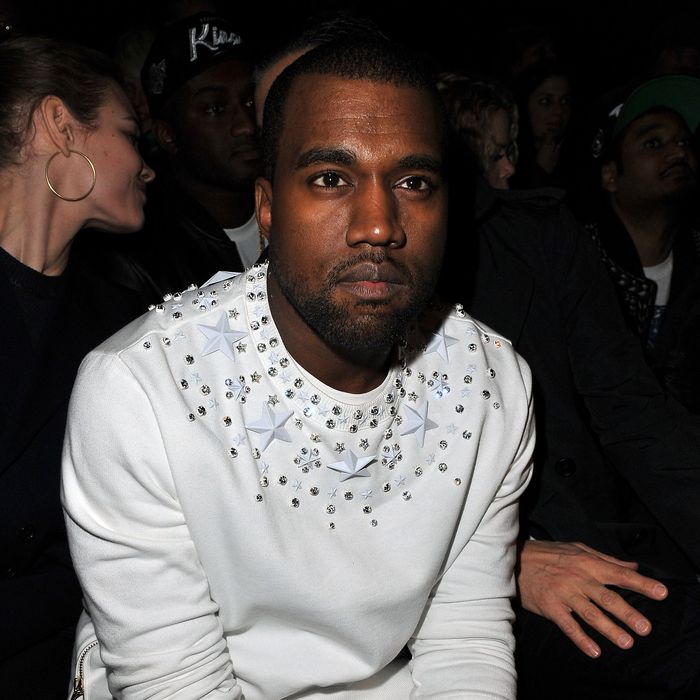 Photo: Pascal Le Segretain/Getty Images
After his first two fashion shows were more or less ripped apart and laughed at, Kanye West stopped showing his eponymous line at Paris Fashion Week. His quiet retreat from the industry coincided with his new relationship with Kim Kardashian, and most concluded that he'd simply reshuffled his priorities. But apparently he isn't content to let his label die a silent, peaceful death, according to today's Post, which reports that he's been in Milan for the past week working on a new collection, which he'll show this fall:
[Kanye] is now prepping a unisex collection of about 100 pieces, we hear, to be revealed during the fall fashion shows. We're further told West is again being advised by a team of top designers from hip brands, including his pal Nicola Formichetti of Diesel. 
Formichetti also works closely with Gaga and was the former designer of Mugler before moving to Diesel earlier this year. Anyway, does this mean West will return to the show schedule this fall? And will he show in Milan, or Paris, or maybe even London, where his studio was previously located? His capsule collection for A.P.C. (a.k.a. "kingdom of dopeness") debuted to much fanfare last Sunday, crashing the label's website and selling out in minutes, so apparently some folks must be pumped about this.