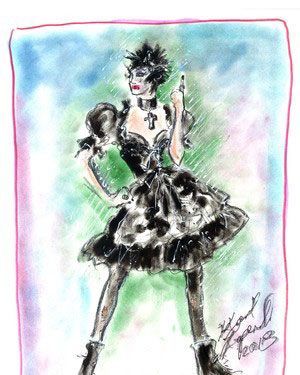 Karl Lagerfeld's dirndl.
Photo: Karl Lagerfeld
The closest Karl Lagerfeld will ever get to a beer festival: In honor of Oktoberfest, he has designed a black leather dirndl, matching blouse, and pinafore for a Bavarian-themed "concept store" that'll open in Munich this fall, WWD reports. Let's not forget — as people often do — that he is a "bloody German" himself, so consider his S&M-tinged designs an ode to his homeland. Or perhaps some weird fetishization of — oh, never mind. Cheers, everyone, and enjoy those liquid carbs and pretzels that Karl wouldn't touch with a ten-foot stange.