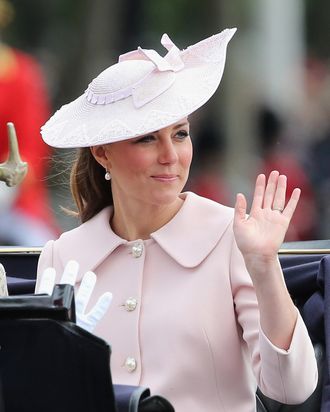 Kate Middleton.
Photo: Chris Jackson/Getty Images
After two weeks of full-blown royal baby anticipation, the crowds of people camped outside the Lindo Wing of St. Mary's Hospital are starting to get tired. But anticipating the royal baby is like waiting for a train on the subway platform: the longer you stand there, the sweatier and crankier you get, but the less likely you are to throw in the towel and get a cab because you know the train must be closer than ever. More than 180 photographers and journalists are sticking it out in the hospital parking lot, and others are keeping watch on the helicopter parked outside Kate and William's home in Wales, poised to ferry the prince back to London as soon as Kate goes into labor. 
In the meantime, tabloids are pouncing on scraps of whatever "information," ranging from the mundane to the purely speculative, that they can get about the birth. Here's the latest.
No One Actually Knows Kate Middleton's Real Due Date
According to the Daily Mail, Duchess Camilla told some random people at the Little Harbour children's hospice in Cornwall,  "We are all just waiting by the telephone. We are hopeful that by the end of the week he or she will be here." Us Weekly originally named June 11 as the duchess's due date, but that's come and gone, so who knows if it was ever true to begin with. This means one of two things: The baby is getting extra-well-cooked, which is perfectly normal, or the due date is actually later than tabloids expected. An even more dubious rumor says Carole Middleton told her friends that the baby's astrological sign will be Leo, which means he/she won't be born until after July 23. Anyway, who doesn't love surprises?
Meanwhile, Prince William Is Busy Playing Polo
Another sign that the baby wasn't actually due over the weekend: Prince William showed up to play in a polo match against Harry in Hampshire (the proceeds went to his African charity Tusk Trust and Harry's Sentebale organization, which benefits kids in Lesotho). His appearance was a surprise to the event's organizers, says People.
Kate Is Sweating, Possibly Craving More Vegetarian Curry
On Friday, Kate escaped the unusually warm temperatures in London (mid-eighties and humid) and fled to her parents' air-conditioned house in Bucklebury, where she's been spending much of her time lately. This also meant she was closer to that vegetarian curry she craved throughout her pregnancy ate a few times over the past two years.
Kate's Obstetrician Has a Nice Car
When Kate goes into labor, she'll call her private secretary, Jamie Lowther-Pinkerton, who will then ring Middleton's doctor, Marcus Setchell (he has a special James Bond–style phone that can't be traced, apparently). Us Weekly describes Setchell's next moves in detail:
He'll then hop into his BMW 6 Series, throw a flashing green emergency beacon light on the roof, and drive the seven-mile, 26-minute route from his Muswell Hill, North London home to St. Mary's Hospital in Paddington.
Bonus points for the use of Google Maps driving times! This baby is really bringing out the best of journalism's resources.
CNN Will Air "Will and Kate Plus One" This Thursday
Regardless of whether the royal child exists yet, CNN will air an hour-long special about him/her on Thursday, July 18, titled "Will and Kate Plus One." Hosted by New Day's Kate Bolduan, the program includes interviews with the following people:
- Lady Elizabeth Anson, cousin of Queen Elizabeth II
- John Haley, friend of the Middleton family and guest at the royal wedding
- Lana Marks, personal friend of the late Princess Diana
- Graham Butland, chief executive of East Anglia's Children's Hospices
- Katie Nicholl, CNN royal commentator and author of The Making of a Royal Romance
Expect lots of information you already know, plus B-roll of joyous-looking royals. Stay tuned, not that you have much of a choice.