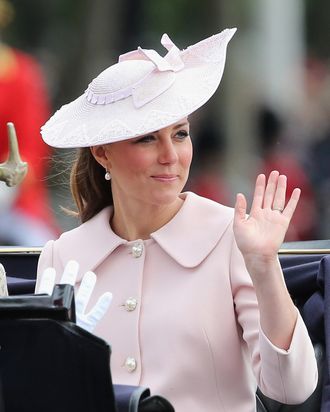 Photo: Chris Jackson/Getty Images
Still no royal baby, but an interesting update from the Department of Childbirth, the Great Equalizer: Every day past Kate Middleton's July 11 due date means more time served in summer-pregnancy hell. It was just shy of 90 degrees in England this weekend, and Kate and William's Nottingham Cottage residence at Kensington Palace has no air-conditioning. (Your rattling window unit never looked so luxurious.) Us Weekly reports that Kate went home to her parents' place in Bucklebury, Berkshire, this weekend, where there is a pool and a barbecue patio.
So it's probably a good thing the royal booger was not born — not even in a scheduled C-section, as was rumored — this weekend, for news organizations, anyway. It might have thrown a wrench in their own birth plans, the details of which they shared with the New York Times. Producers have been assured the birth will be announced between 8 a.m. and 10:30 p.m. (Remember, nothing leaks while the queen sleeps.) In addition to staking out the narrow street where the duchess is expected to enter a private wing of the hospital, they expect to get five to ten minutes' notice after the baby is born, before the car delivers the doctor's handwritten notice to the queen — enough time for Sky News' helicopter to get airborne and shoot the delivery, high-speed-chase-style. They will get three minutes to shoot the easel where the birth announcement will be posted. News executives tell the Times that it will be the most "historically consequential" birth of the A.T. (after Twitter) era, and a major "reprieve" after bummer news stories such as the George Zimmerman trial and "uprisings" overseas. We need this hot, drawn-out spectacle.