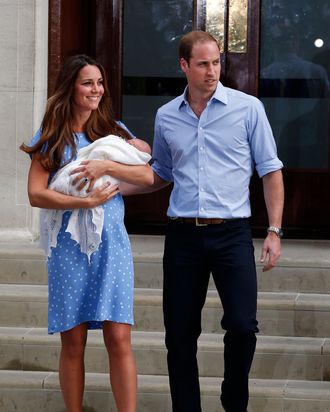 Kate in Jenny Packham.
Photo: Lefteris Pitarakis/THE ASSOCIATED PRESS
The blue-and-white polka-dot dress worn by Kate Middleton to introduce her royal newborn to the masses yesterday was the work of one of her longtime favorite designers, Jenny Packham. Within minutes of Kate stepping out of the Lindo Wing doors, the label was trending on Twitter, and its website promptly crashed. (Presumably in an effort to be respectful, the label did not announce its involvement via Twitter, choosing to confirm to select press instead.)
But unlike many of Kate's off-the-rack dresses, this one was custom-made and won't be for sale, according to Packham's brand director, Blaire McColl. When pressed by Vanity Fair, McColl wouldn't reveal how far in advance the dress had been requested — and did they make a pink one, too, just in case?! — but of course, the label's customary discretion is one of the reasons Kate continues to be so loyal.
Kate's dress has drawn the inevitable comparisons to the blue polka-dot shift that Diana wore on those same front steps 31 years ago with baby Prince William. Surely there was an intentional nod, but the cut and pattern of Kate's empire-waist outfit is still distinctly different from Diana's white-trimmed, V-neck, tentlike sheath.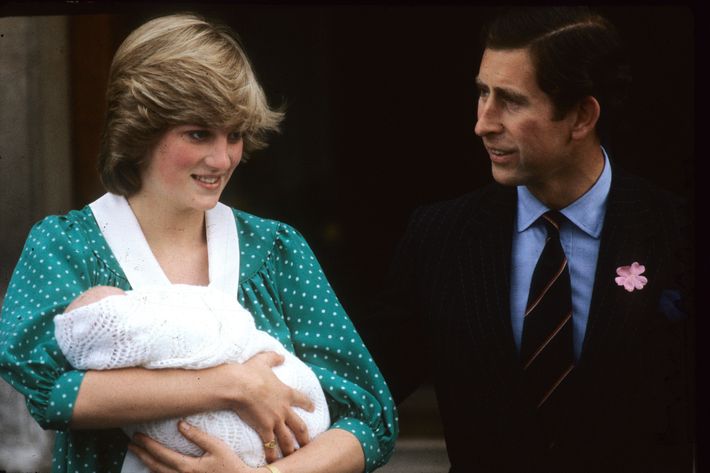 Anyway, a similar dress is hardly the last tribute Kate will make to Diana as she and William embark into royal parenthood.