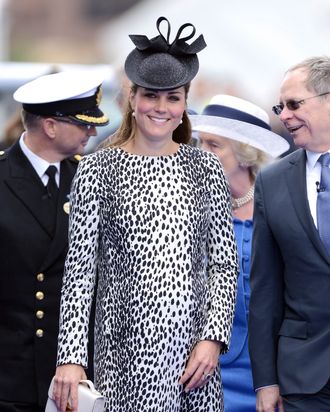 Kate Middleton.
Photo: Karwai Tang/WireImage
It's only a matter of days until the royal baby exits Kate Middleton's womb and takes its first privileged breaths, and the British press is whipping itself into a frenzy. The sidewalk outside the private Lindo wing of St. Mary's Hospital is so cluttered with journalists and random well-wishers that parking has been suspended, and camerapeople have been assigned their own riser spots. (Meanwhile, the hospital has frosted the windows so no one can peek in.) In lieu of any actual news, everything from Kate's pregnancy cravings to Prince William's private helicopter have fallen subject to rampant speculation. Read on for more questionable tidbits about the royal birth.
Prince William's Private Ride
Several outlets have reported that a private chartered helicopter is waiting for the Prince at the couple's home in Wales, where he is currently serving his RAF duties. If all goes according to plan, he'll be flown to the hospital in under two hours. If he arrives even sooner, he apparently hopes to drive Kate from Buckingham Palace to the hospital himself.
The Big Reveal
Kate is expected to reveal her baby to the public on the steps of the Lindo Wing, just as Princess Diana did with Prince William in 1982. Here's hoping she hoists him up for all the kingdom to see, Simba-style.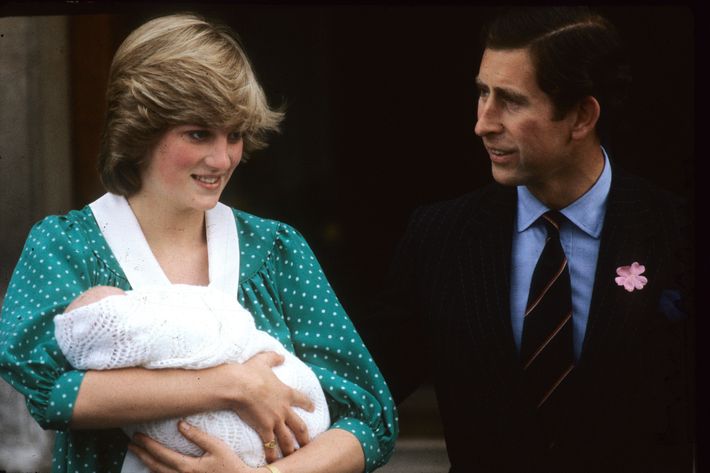 Kate's Curry Cravings
A few months ago, Kate reportedly stopped by a convenience store near her parents' house in Bucklebury, where told store owner Chan Shingadia she "had a craving" for curry. According to the Daily Mail, he made her a batch of vegetable curry with rice and flatbreads, and said she has been a regular visitor since then, even in during her last trimester.
The Royal Bat Phone
An earlier report issued by the palace stated that the Queen would be notified of the birth by a piece of hand-delivered paper, per tradition, but E! News says that Prince William might go rogue and call his grandma from an "encrypted phone" with the news.
Delivery Room VIPs
In addition to Prince William, Kate's mom and sister, Carole and Pippa Middleton, will also be present for the birth, according to reports.
Other Random Royal Baby News
Just for good measure: Prince William's first cousin has announced that she and husband of nearly two years, rugby player Mike Tindall, are expecting their first child.