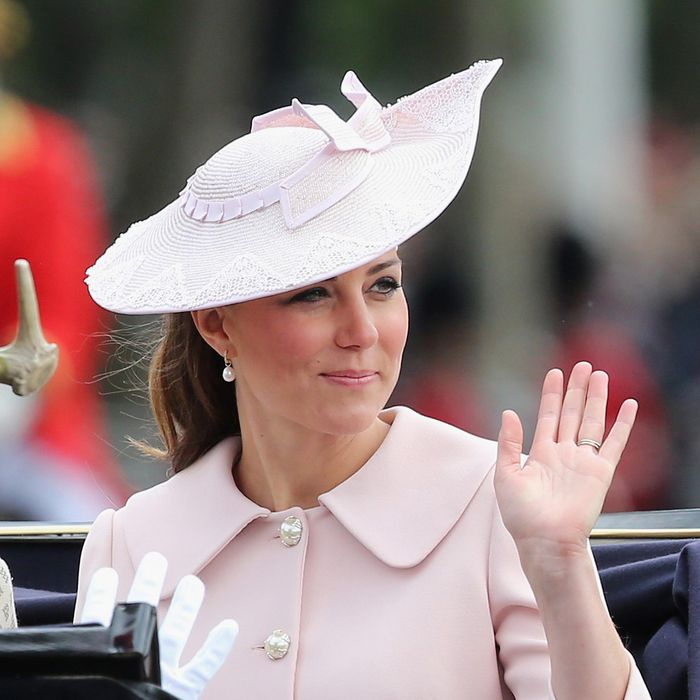 Crowds awaiting royal baby news.
Photo: Chris Jackson/Getty Images
Kate and Will spent last night at St. Mary's Hospital, no doubt guzzling Champagne and laughing at all the weirdos camped outside their frosted windows (or, you know, sleeping soundly for the first time in weeks). They're expected to make their grand exit sometime today or tomorrow, providing photographers with the money shot of the couple and their wee, blue-blanket-wrapped bundle of joy on the steps of the Lindo Wing.
The name still hasn't been announced, and precedent suggests it may not be for some time: Prince William's name wasn't released for a week, while Prince Charles and Princess Beatrice took a month and two weeks, respectively. But in the meantime, the royal couple have released a statement thanking the hospital — as well as all their fellow patients — for putting up with all the fuss:
We would like to thank the staff at the Lindo Wing and the whole hospital for the tremendous care the three of us have received. We know it has been a very busy period for the hospital and we would like to thank everyone - staff, patients and visitors - for their understanding during this time.
Clarence House also confirmed via Twitter, "Mother, son and father are all doing well this morning."
The next steps: Will gets two weeks of state-mandated paternity leave, and the couple will retire to Kensington Palace. As their 21-room apartment there is currently undergoing renovations, they're not expected to stay there for more than a few days, but the press seems divided on where they'll go next. Possibilities include one of Queen Elizabeth's secluded estates, either Sandringham (in Norfolk) or Balmoral (in Scotland), or the Middletons' home in Bucklebury where Kate spent most of her final days of pregnancy. Security is obviously a top priority.
Update 1, 10:55 a.m. E.T.: New grandparents Michael and Carole Middleton have arrived at the hospital, traveling by black cab. Contrary to previous rumors, Carole and Pippa were not bedside at Kate's birth, although they may have been in the hospital at the time.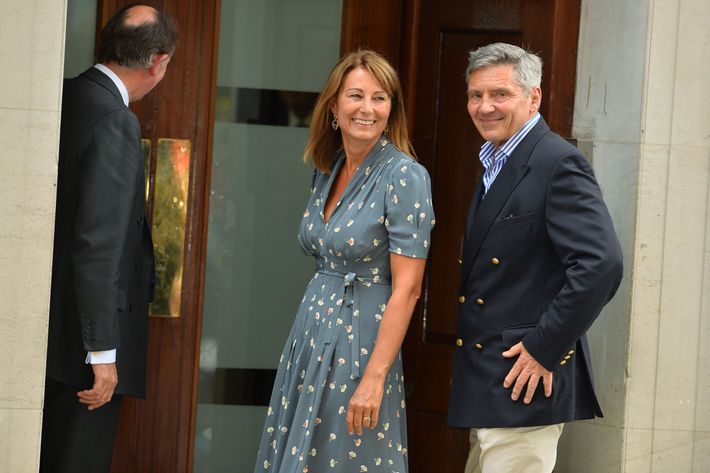 Royal officials have said that Kate and Will plan to leave the hospital either later this evening, after 6 p.m. London time, or tomorrow morning. Meanwhile, there's a rumor that Kate's beloved hairdresser is in the building, which bodes well for her possible departure today.
Update 2, 1:38 p.m. E.T.: Prince Charles and Camilla stopped by briefly; Charles told reporters that the baby is "marvelous." Meanwhile. Kate, Will, and baby will reportedly leave the hospital ANY MINUTE NOW. Press outside the hospital are getting frantic. The palace has issued the following statement: 
Her Royal Highness The Duchess of Cambridge will be discharged this evening from St. Mary's Hospital, Paddington… Their Royal Highnesses would like to reiterate their thanks to the hospital for the care and treatment they have all received.
Update 3, 2:24 p.m. E.T.: THEY'VE COME OUT WITH THE BABY.