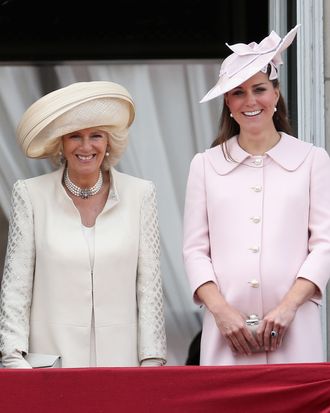 Photo: Chris Jackson/2013 Getty Images
For those of you placing bets that this weekend will be the weekend Kate Middleton will have the royal baby, you may be in luck. According to Vogue UK's "close sources," (and contrary to her birth plan for a natural birth) Kate has reportedly been advised to schedule a C-section for unspecified medical reasons. So the prince or princess could easily arrive as early as tomorrow! Oddly enough, tacked on the report is a short editorial defending Kate's choice should she opt for a "reliable, quick, and efficient" Cesarean, partially on the grounds that the resulting scar "is nothing Mama Mio's See-No-Scar oil and a really great bikini can't hide." Regardless of Kate's choice in how she welcomes her child, THIS COULD BE THE WEEKEND.
Should these unnamed sources be correct, it would be about time for all of the grumbling press amassed outside of  St. Mary's Hospital in Paddington. They've been waiting for days in what's been described as a makeshift refugee camp. With nothing to do besides stand around, one seasoned father complained:
"At least when it's your wife, you don't go to the hospital until the wife's in labor," said Harry Rabbie, a BBC cameraman and father of two who spent much of Wednesday slumped inside the makeshift journalists' refugee camp on the street outside St. Mary's, passing the time with a romance novel titled "The Tycoon's Seductive Revenge." "This could happen 15 to 20 days after the due date," he continued, speaking from personal experience, "even if we knew what the due date was."
Might we suggest striking up a book club while you're stuck there? There's appears to be some fantastic reviews for Billionaire Bodyguard on Amazon, also written by the same author.