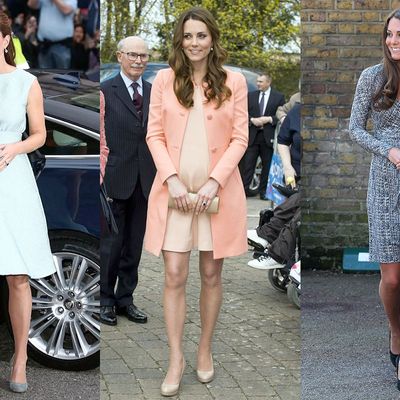 While it's thrilling to finally have the royal baby here, it's quite natural to feel a bit disappointed that the royal pregnancy is officially over. Over the last nine months, we've obsessed over Kate Middleton's birth plan, food cravings, choice of prams, and, most passionately, about her wardrobe choices. As someone who already made fashion news every time she left the house, Kate Middleton drew extra attention once she did the same thing in maternitywear.
In a moment when many Hollywood celebrities were being criticized for their too-tight, too-restricting, or too-revealing pregnancy outfits, Kate stuck to what she wears and knows best: classic silhouettes, simple dresses, and topcoats, along with modest, flattering pieces that actually look comfortable.  She repeated outfits as she has done in the past, wore the same shoes multiple times, even followed a custom-made dress with a playful Topshop frock; it worked for her where it didn't for Kim Kardashian, whose go-to clingy dresses and leather pants didn't translate well into a pregnancy look.
So to commemorate the end of one of the most well-documented pregnancies, take a look back at Kate Middleton's best maternity looks, from the wrap dress that hid her barely there baby bump, to the dalmatian-print coat she wore a few weeks ago.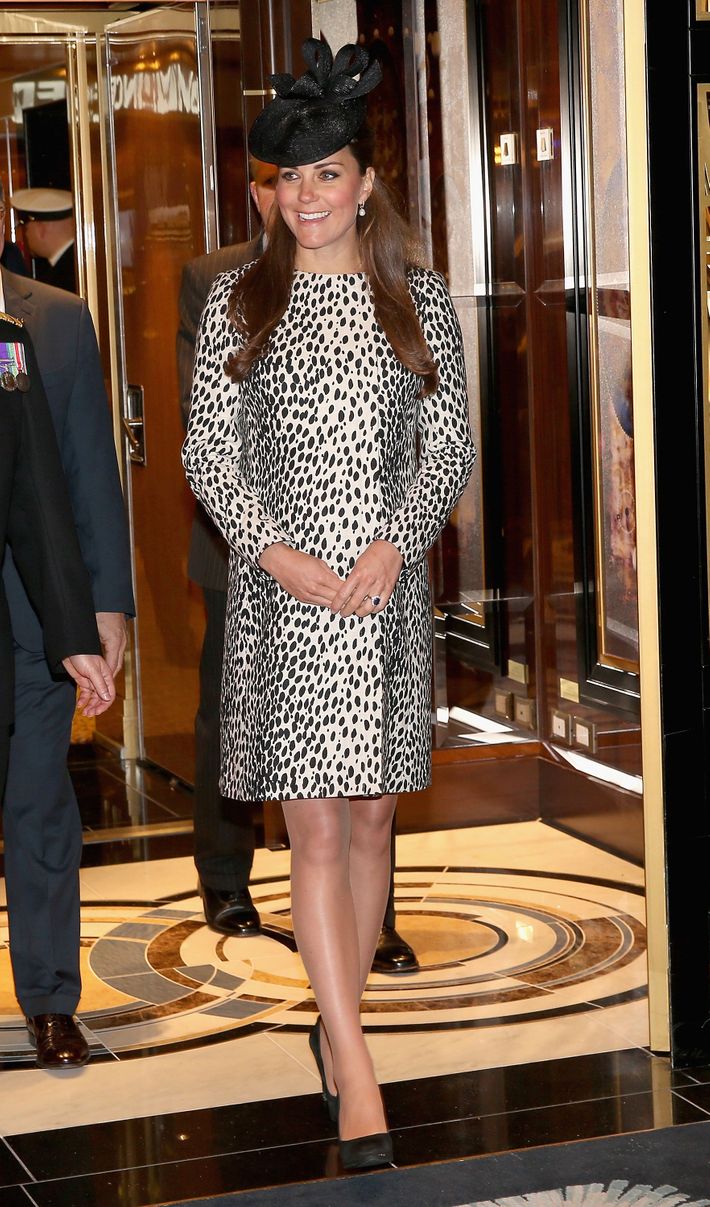 June 13, 2013
At the Princess Cruises ship-naming ceremony in a flattering (and rather daring for the normally understated princess) Hobbs dalmation-print coat and Jane Taylor fascinator.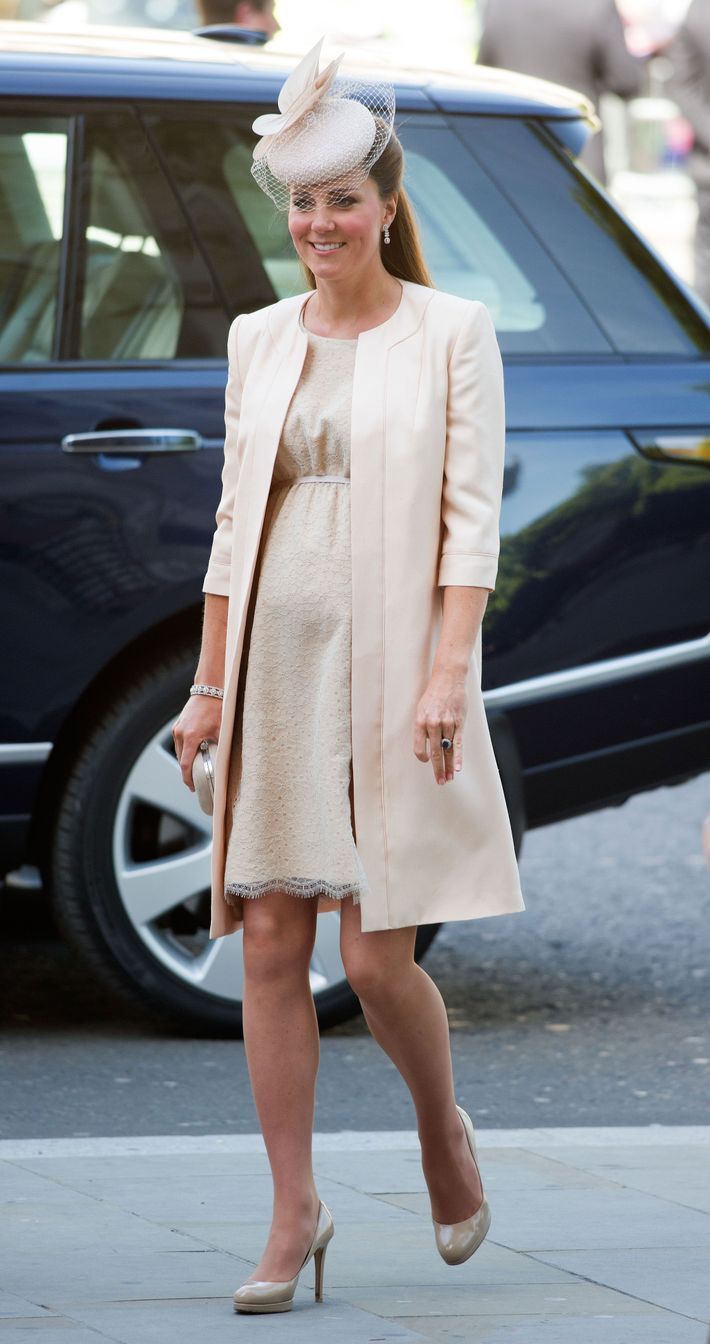 June 4, 2013
At a service to mark the 60th anniversary of the queen's coronation wearing a Jenny Packham dress and jacket, June Taylor fascinator, and LK Bennett pumps.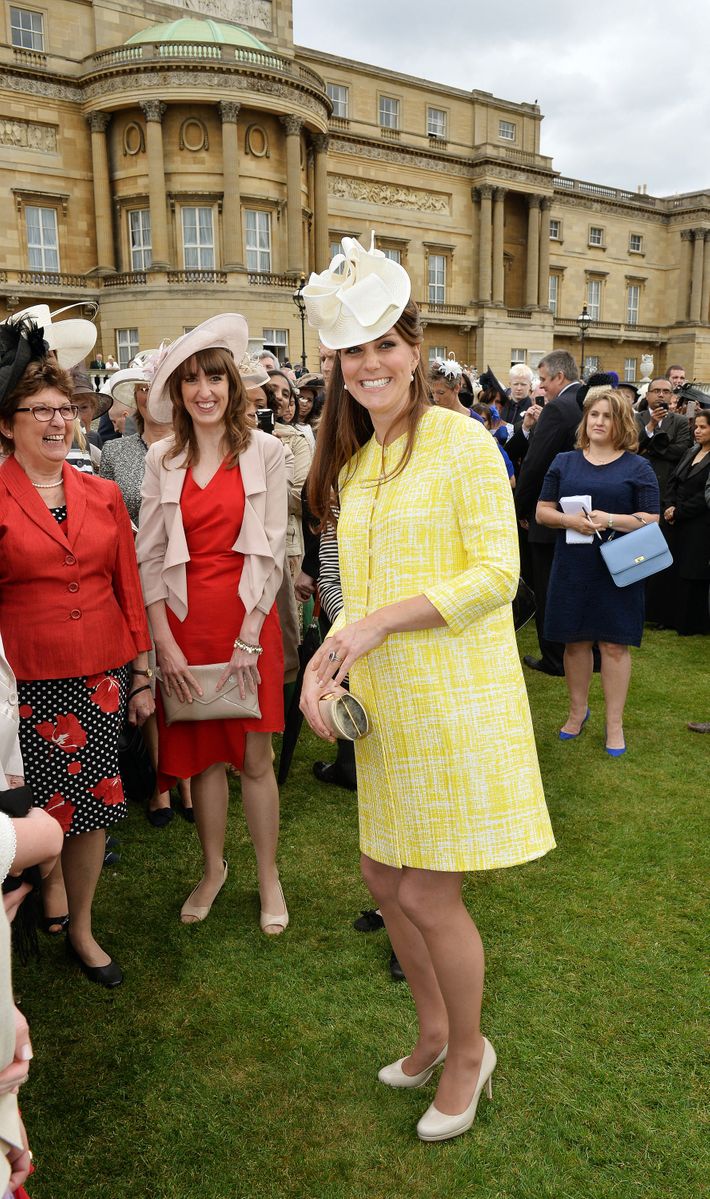 May 22, 2013
Looking incredibly happy at Queen Elizabeth II's Garden Party in a sunny Emilia Wickstead coat and Jane Corbett fascinator.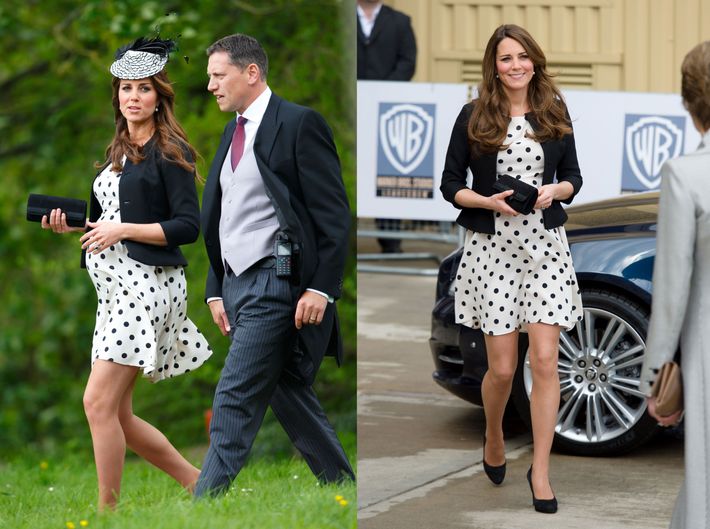 May 11, 201; April 26, 2013
At the wedding of William van Cutsem and Rosie Ruck Keene and then at Warner Bros.'s studio wearing a Topshop dress and Ralph Lauren Jacket.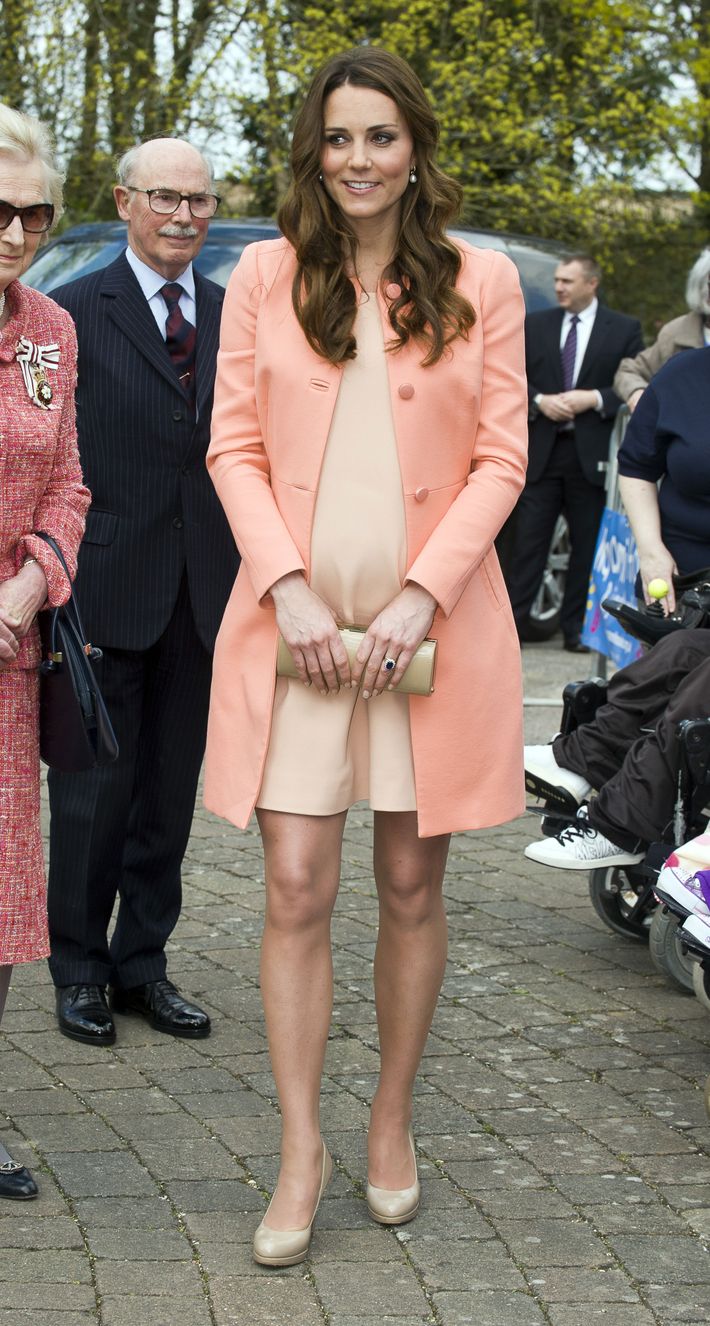 April 29, 2013
Visiting Naomi House Children's Hospice in a bright Tara Jarmon coat, custom blush dress, L.K. Bennett pumps, and matching Avona clutch.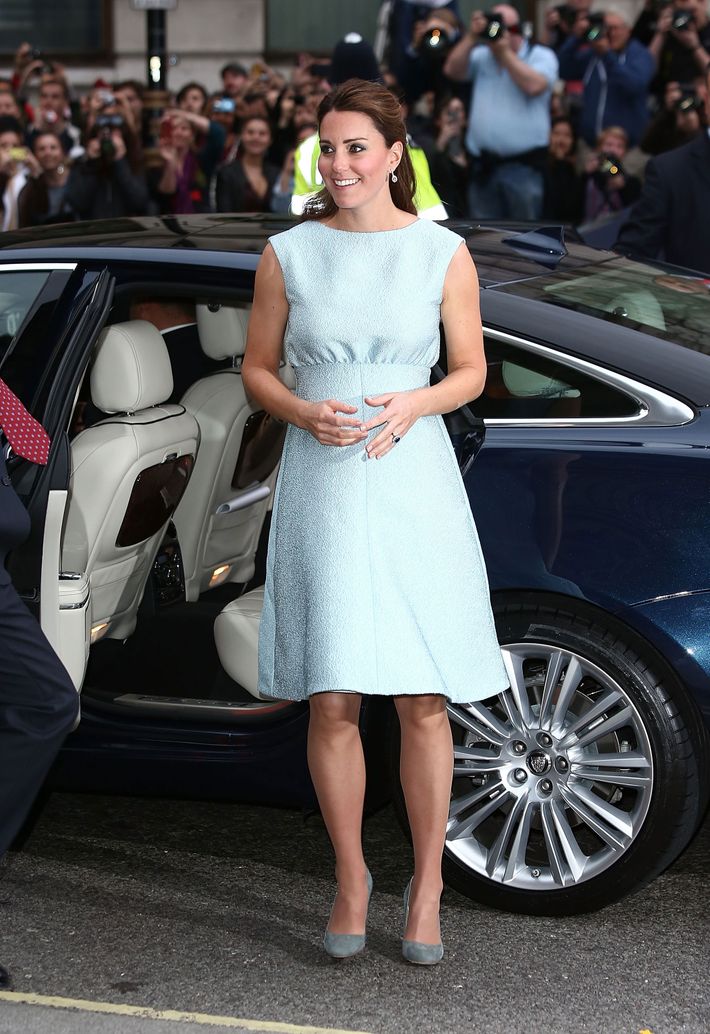 April 24, 2013
At an event celebrating the work of the Art Room charity in an Emilia Wickstead dress.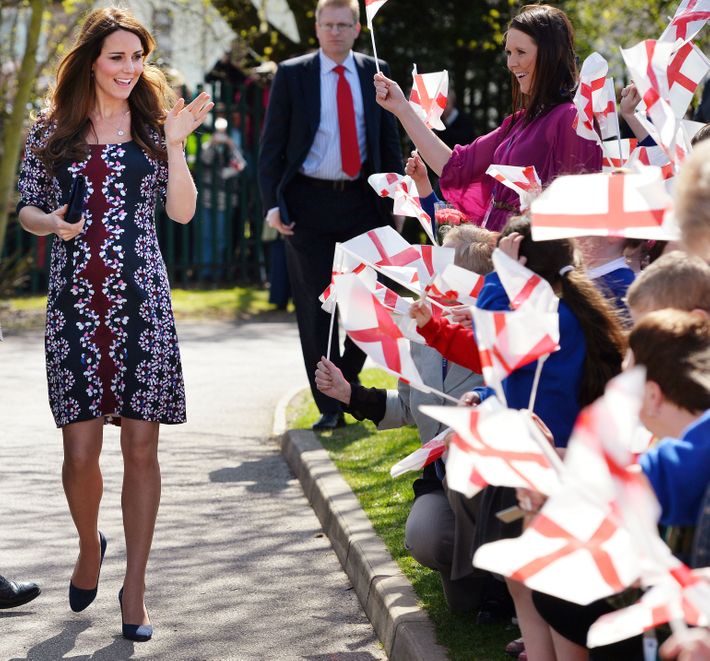 April 23, 2013
Visting the Willows Primary School in a printed Erdem dress.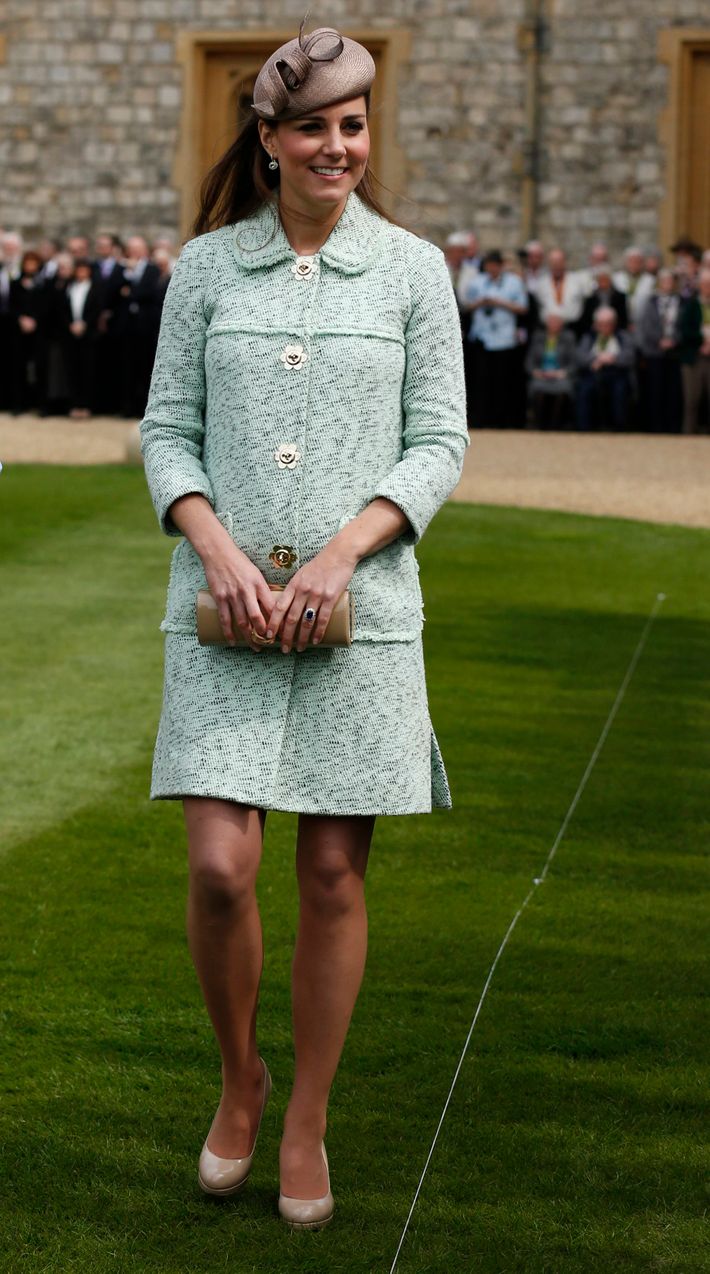 April 21, 2013
At the National Review of Queen's Scouts in a mint Mulberry coat, Whiteley fascinator, and signature LK Bennet pumps.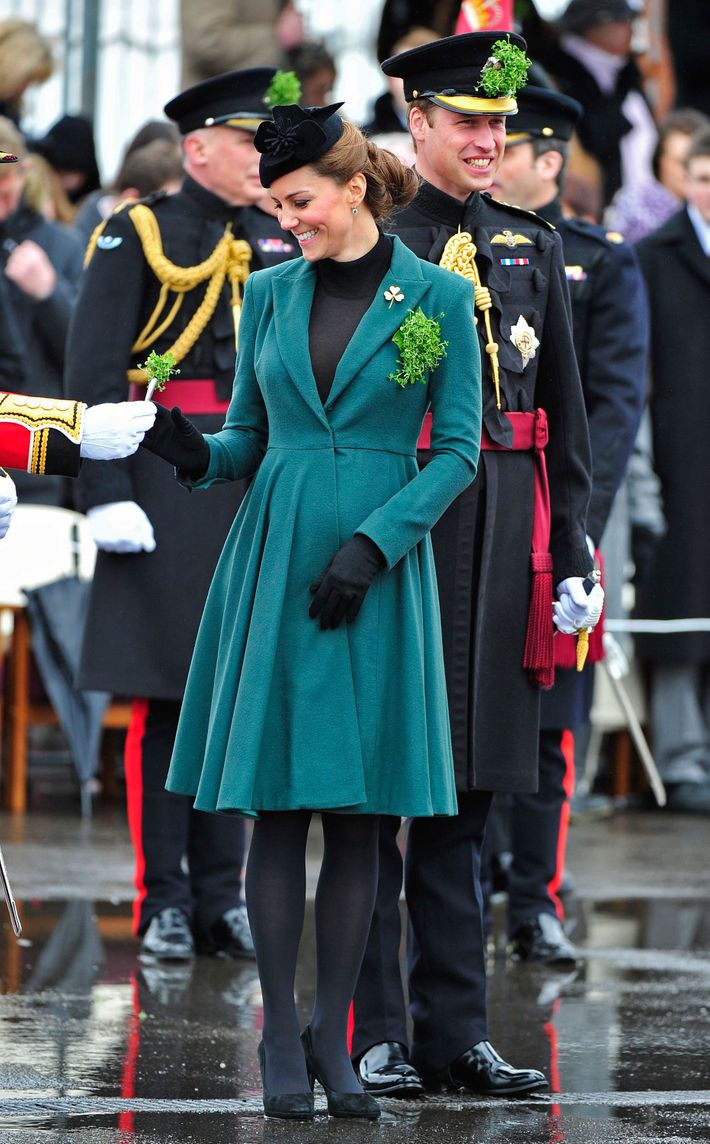 March 17, 2013
At a St. Patrick's Day parade in the same Emilia Wickstead coat she wore to the event last year.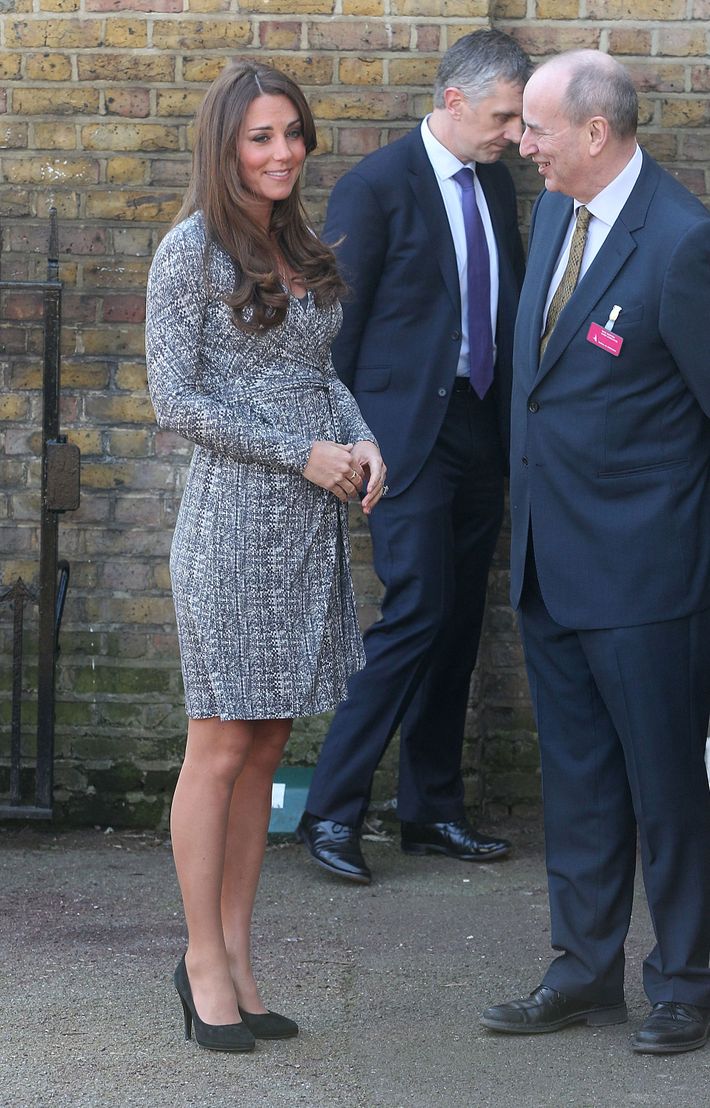 February 19, 2013
Visiting Hope House in a Max Mara Studio wrap dress that reveals just a hint of baby bump.