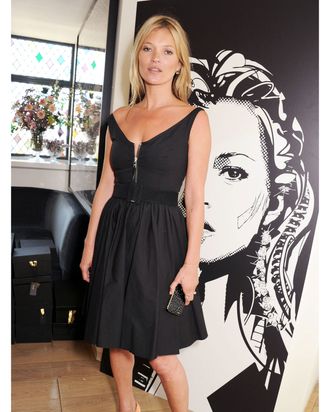 Kate Moss, making cell phones sexy since 2013.
Photo: Dave M. Benett/Getty Images
Last week, Carphone Warehouse announced their collaboration with Kate Moss on a line of cellular-phone accessories, and without a moment to spare: The model unveiled her first collection at the Ivy in London today, swanning about in a half-unzipped dress that consistently looked like it was juuust about to fall off. (In case you actually care what her "designs" look like, she had one made out of mock crocodile leather to look like her favorite Dunhill lighter.) Meanwhile, she talked a big game for collection No. 2, which she's already working on. "The next one's going to have all these chains with charms on that you can attach to your phone," she told the Telegraph. How adorable? But more important, what does this mean for the future of her pink-bunny-eared iPhone cover?