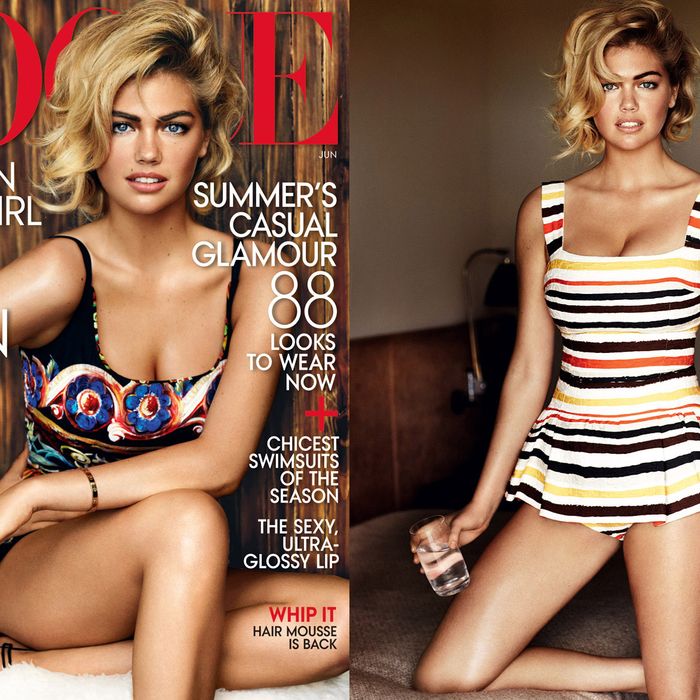 Kate Upton's June Vogue cover.
Photo: Vogue
It's only July, but the big monthlies are already closing their September issues so editors can scoot off to the couture shows and the Hamptons afterwards. These are the thickest, most ad-stuffed magazines of the year, and there's stiff competition for the cover spots, which are always reserved for top-selling faces. It comes as no surprise that Kate Upton is one of these — she'll be on Elle for the first time, following her successful rounds on CR Fashion Book, GQ, Sports Illustrated, and several international Vogues (including the American edition last month), WWD reports.
Speaking of, this September will bring Jennifer Lawrence's long-overdue Vogue debut. As a Dior face and all-around national darling who can alternate between falling on her face, winning an Oscar, and smoking pot in the tropics, she's pretty ideal newsstand fodder.
Here are the other faces you'll see in the checkout aisles:
Glamour: Jennifer Aniston, who always sells no matter what.
Marie Claire: Zooey Deschanel, who was their top-selling cover girl in 2012. Maybe they'll get rid of her bangs again.
Cosmopolitan: Vampire Diaries' Nina Dobrev, because immortality seems to sell.
T Magazine: The Vogue-approved Rooney Mara.
Lucky: Blake Lively will usher in the magazine's much-anticipated, Anna Wintour-approved makeover under new editor Eva Chen.
Allure: Jennifer Garner, who hasn't been on many covers lately but is overdue for some face time after taking a backseat to her husband's overwhelmingly successful year.
Town & Country: Lauren Bush Lauren and Claire Courtin-Clarins, token do-gooders of the lucky sperm club.
And here's who you won't see: cover mainstays like Lady Gaga, who's been taking a merciful and much-needed break; Beyoncé, who's too busy doing a million other things, and Taylor Swift, who never sold magazines to begin with.