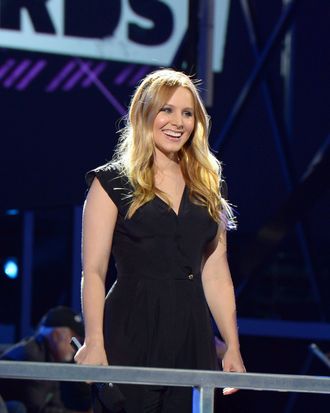 Photo: Michael Loccisano/Getty Images
For all of you who were surprised that Kate Middleton still looked pregnant after giving birth earlier this week, Redbook editor-in-chief Jill Herzig takes responsibility for our ridiculous post-baby body expectations. In a column she wrote for the Huffington Post, Herzig blames magazine covers that feature celebrities like Gisele "in bikinis, all smiles and hipbones, showing off how thin they've gotten just a few months — or even weeks — after giving birth." It's not just fashion titles; Herzig admits that lifestyle-friendly Redbook is a culprit, too. "I'll admit I've sometimes been part of the problem," she writes.
Now Herzig wants to repent for her past sins. For Redbook's September cover, she chose to feature Kristen Bell just eleven weeks after giving birth, rather than waiting until the actress was back at her "Hollywood weight." Bell says she is still 15 pounds overweight, after gaining 43 pounds during her pregnancy, but she accepts that she may never get her old body back: "I'm going to continue working out and see where it goes," she says. "I'd like to get back down to where I was before the baby … but if this is where my body wants to be, so be it. I'm not going to make myself miserable for the rest of my life trying to get back to where I was before."
K. Bell will probably figure out a way to get her flat abs back, but she still deserves kudos — and Herzig does, too — for attempting to set a new post-childbirth celebrity body standard.