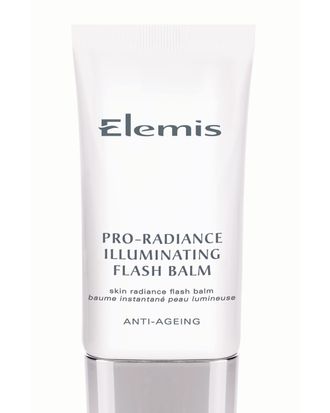 Sometimes slathering foundation on during a heat wave feels like placing a plastic bag over your head. And while the idea of  being makeup-free sounds liberating, your complexion ends up looking and feeling a bit blah. Instead, consider Elemis Pro-Radiance Illuminating Flash Balm, a lightweight moisturizer that will perk up your skin and give you an instant glowy look.
Doses of acai and purple orchid plant deliver those skin brightening and tightening effects. Ever better are tiny, miniscule particles of mica within the cream that truly deliver an instantaneous glowy effect (like you drank gallons of water and got ten hours of sleep). For those in need of pigment, use the cream as a makeup base (the mica will still shine through).
While I didn't wear it everyday — the overwhelming floral fragrance was a bit much for my nostrils — it became my pre-dinner moisturizer. If I completely sweat through the first part of the day, and need a second shower or cool-off swim before dinner/cocktails/etc., I'll reach for the Elemis instead of my heavier face cream. Since it doesn't have any SPF, it's better for post-sun hours anyways.