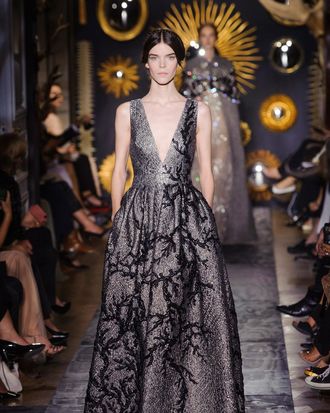 Photo: Imaxtree/Alessandro Lucioni
The couture collection at Valentino today was ornate, ladylike, and slightly menacing. As models swept down a runway that looked like the corridor of a mansion (nice touches of taxidermy!), all that lace, herringbone, and satin took a moodier turn. For instance, gold lace quickly went from girlish to resplendent to menacing when shot through with blood-red embroidery.
All told, each look was reminiscent of what Jane Eyre might wear had she had access to couture: dark, stormy, Victorian. Especially one ball gown whose gorgeous oxblood velvet bodice was attached to a full skirt with a print inspired by a cabinet of curiosity. The daywear was lovely in an almost Hitchock way, with suits in bookish herringbone and camel plaid. And since the true lady makes an impression coming and going, the back view of the items — like a vixen-ish peekaboo black lace dress — was often more gasp-worthy than the front. Click through our slideshow for a closer look.