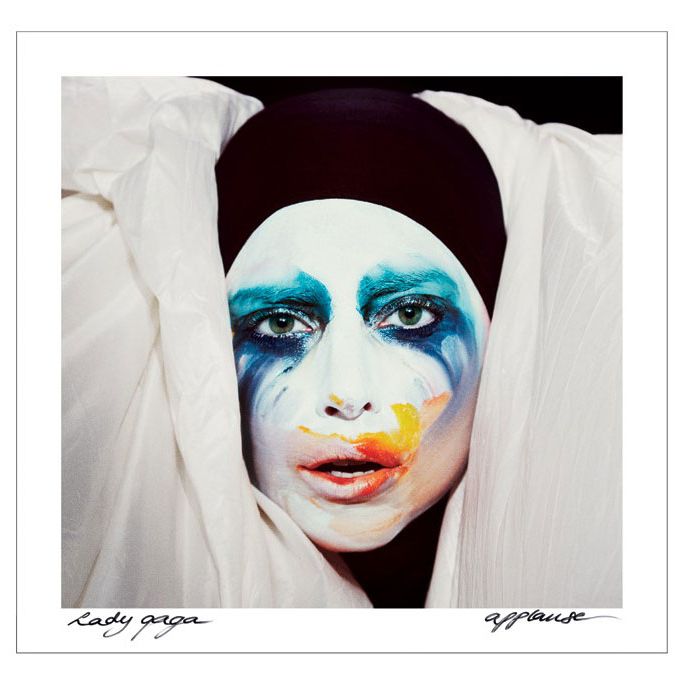 It's been six months since Lady Gaga broke her hip and retreated from the public eye to convalesce in her golden wheelchair. That means it's been half a year since she's debuted a new "look," which is practically a decade in Gaga years. But now she's back! And she's taken that time off to think long and hard about her craft and her vision. In her own words, to WWD, "I got to put a giant white or black sheet of paint over my whole canvas and I got to review ARTPOP again."
The result is this image, the cover of her new single, "Applause," which shows her nestled in a cream coat by Gareth Pugh, her head swathed in a black wrap and her pale face smeared with primary-colored pigments. It's a not-so-subtle allusion to herself as a blank canvas, perhaps one that has been pillaged by a toddler with finger paints.
Gaga, who worked on the cover with her fashion director, Brandon Maxwell, and photographers Inez van Lamsweerde and Vinoodh Matadin, explains herself:
I was given the time to really be creative because it's a gazing process, it really is. I have to gaze into the work for long periods of time for it to be good. I have that feeling, that wonderful feeling, when me, Inez and Brandon look at each other and we go, 'It's so good. That's the one.'
Adds Van Lamsweerde:
There is a sense of stripping bare and then putting things back on. That's the process she's going through … I always say to her, 'Look at you. You are incredibly beautiful, accept it. Don't try to hide your face, just shine through.' For her, it's a part of that not hiding behind wigs and glasses and all kinds of stuff.
Should you need a refresher, all kinds of stuff = prosthetic pointy cheekbones, pearls, veils, horns, and, of course, meat.
Another example: One of the last times she appeared in public, she walked around New York City with an S&M mask buckled over her face.
Anyway! Let's deconstruct this new look, which is presumably a jumping-off point for what she unleashes on the red carpet at the VMAs in a few weeks.
Hair: Not shown at all, which is a big step. Gaga is a lover of colored wigs, hats, and basically anything that can be balanced on her head. Maybe she's giving her scalp a rest. The black head wrap is Pierrot-esque, perhaps a reference to the historical clown character whose identity has been reinvented and reinterpreted throughout history.
Makeup: The white base makes her look like she's been coated with Gesso primer. She's gone for the pale, powdered face before, most notably on the cover of Harper's Bazaar in October 2011, but this is even more extreme. While the colorful paint smears are abstract, they still accentuate her facial features in a pleasing way — she's not going for a repeat of the terrifying "Born This Way" motorcycle moment, in other words.
Now, her eyebrows are a nice teal, her eyes dark blue, and her mouth area is red with a random smudge of yellow above her lip for good measure.
Clothing: She's not exactly "wearing" this white Pugh coat. Instead, it's draped around her head like a curtain. The result is abstract, almost like a Georgia O'Keeffe landscape. It's quite pretty.
The full scope of Gaga's makeover will come into focus as she ramps up her new image in the coming weeks. She leaves us with this cryptic message, referencing her famous egg entrance from 2011: "I'm sending a doppelgänger [to the VMAs] … I'm going this year as a fried egg instead of hard-boiled." Either a weird joke or a very disturbing threat indeed.