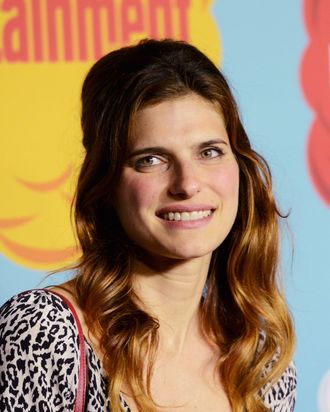 Photo: Jason Merritt/Getty Images
Lake Bell — writer, director, and star of movie voice-over comedy In a World … — revealed her friendship deal-breaker on  NPR's "All Things Considered." A talented voice actor herself, Bell refuses to tolerate what she calls "sexy baby voice" or "squeaky-toy voice," the combination of vocal fry, up-talk, and other linguistic tics that many young women employ. She says she's been "personally ruptured and unsettled" by this trend: "Not only is it pitch, so really high up, but it's also a dialect, it's like a speech pattern that includes uptalking and fry, so it's this amalgamation of really unsavory sounds that many young women have adopted," she said.

Bell, who admits to lowering her voice during interviews, has a very specific kind of ideal for a woman's voice. "I can't have people around me that speak that way, and mainly because I am a woman, and I grew up thinking a female voice and should sound sophisticated and sexy, à la Lauren Bacall or Anne Bancroft or Faye Dunaway, you know? Not a 12-year-old little girl that is submissive to the male species."
We could not agree more, and will be careful to modulate our vocal pitch accordingly.