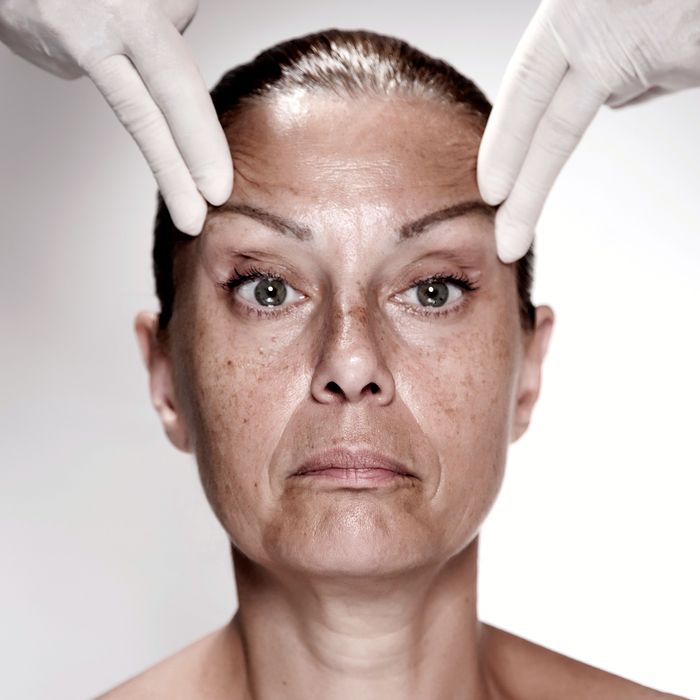 Leaning in.
Photo: Patricia Curi/Corbis
The bitch of working hard, having kids, and keeping up a social life (or hell, even doing just one of those things) is that it makes you tired, which eventually leads to wrinkles. And under-eye bags. And gray hair. And other things that make you look as tired and haggard as you feel, no matter how fulfilled you are with your busy life. To add insult to injury, high-powered women find that looking anything older than vaguely "middle-aged" hurts their careers, prompting them to get plastic surgery or other cosmetic procedures to keep their edge in the workplace they've fought long and hard to be in.
This conundrum introduces a new aspirational aesthetic: perma middle age. It's for women who don't want to look young, by any means, because that would bring up a whole other kind of discrimination — namely that they are trying too hard. But they don't want to look a whole lot older than 50, either, lest their colleagues think they're just days away from retiring to their rocking chairs to dandle their grandchildren on their laps.
Today's Times interviews a dermatologist who specializes in just this kind of clientele:
Dr. Alexiades-Armenakas is … among the doctors serving a relatively new niche: high-powered New York professional women of a certain age who do not want to be forced to downshift their careers because of a perception that they are too old.

"I get C.E.O.'s of huge companies who want to remain active well into their 60s," she said.

Melanie Kusin, vice chairman at Korn/Ferry International, who leads searches for chief executives and corporate board members, has been seeing Dr. Alexiades-Armenakas for more than a decade.

"It's a cruel world," Ms. Kusin said. "It's incredibly important to project the right image."
The "right" image means permanently well-rested, smooth-skinned, and just old enough without looking too old. Meanwhile, men of the same vintage are usually considered venerable or "distinguished." They are wise old owls whose years of experience — even the ones that are visible on their faces — are seen as an asset. Dr. Alexiades-Armenakas does not mention any male clients who struggle with the problems her female clients do, probably because she has none.
Perhaps the next book Sheryl Sandberg can write for working women will address not just what happens when we get pregnant, but what happens when we get aged out of our hard-won careers.