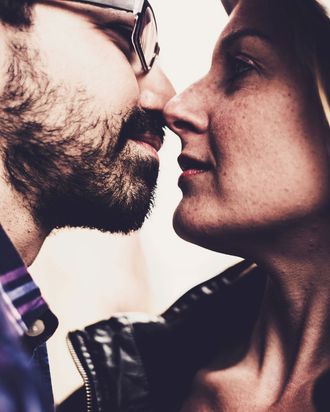 Photo: Mauro Grigollo/iStockphoto
My dentist hovers over my open mouth as he holds a mirror to peer inside. He leans in — not for a closer look at my teeth, but to clutch my face in his hands and kiss me passionately on the lips. Startled, I reach my arms up to grab him by the shoulders and flip him onto the floor. I mount his body on the carpet and return his smooches with ardor. "Kiss! Kiss!" We are urged. "You're her fantasy dentist!"
The dentist is my boyfriend, Kale (who is not really a dentist). And the floor belongs to our instructor, William Cane, author of The Art of Kissing. Cane is the pen name of Michael Christian, the nation's (self-described) foremost expert on kissing. We're sitting in folding chairs in his suburban living room, surrounded by a grandmotherly shelf of ceramic figurines and his 5-year-old daughter's teddy bears. We're here for his standard kissing lesson, a $155 class that promises to coach us through the kisses outlined in his Art of Kissing book.
"I was interested in kissing from an early age," Cane explains. "It appeals to my romantic side." The kissing doctor, 60,  is the spitting image of Woody Allen, with the same salt-and-pepper hair and round glasses. He published The Art of Kissing in 1991 while teaching English literature at Boston College and chose his pen name not out of embarrassment but because his favorite author, George Orwell, also wrote under a pseudonym. After the book sold a quarter-million copies and was translated into seventeen languages, Cane followed up with more books and a 2003 instructional DVD. He began hosting kissing shows on college campuses — over the past two decades, he has performed nearly 400 — where groups of students demonstrated his kissing techniques onstage.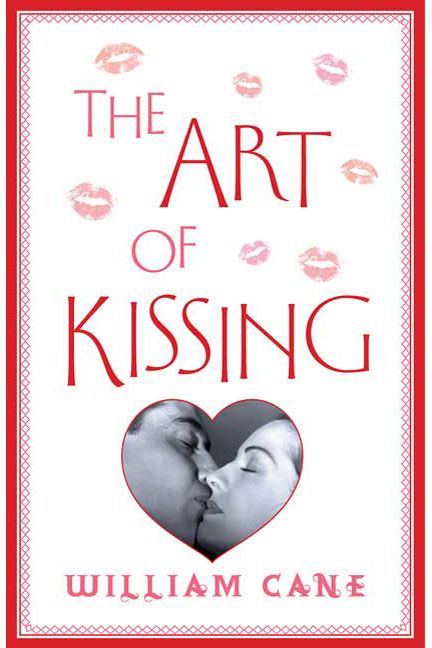 These days, Cane primarily teaches lessons, which include troubleshooting your current kissing style and learning new techniques over an hour and a half.  "Most people who purchase the kissing lesson have concerns about their kissing ability," he says. One woman hired Cane's services because she felt she wasn't up to snuff on French kissing, so he hired a partner to help her practice on. (Cane is completely hands-off during the lesson and does not kiss his clients.) Usually, couples take the class together, oftentimes as a gift, either in Cane's living room — a twenty-minute walk from the local train station in Yonkers — or a hotel room they must rent themselves. (He doesn't do house calls.) There is a $355 deluxe kissing lesson, too, which would entail Cane hiring an actor couple to demonstrate the kisses for you. No one has purchased it yet.
So, how does the kissing doctor himself kiss? "I know a lot of technical things about different types of kisses that most people never think about," he says. "But writing [the books] made it more difficult for me because now any woman I kiss usually says something like, 'You wrote The Art of Kissing and this is the best you can do?'"
Our lesson with the master — which happened, fittingly, on World Kiss Day — began with a simple kiss or, as Cane put it, our "first lip contact." My boyfriend and I stood face-to-face and smooched, gently rubbing noses. Apparently, we were too gentle. "A little nose fighting!" Cane coached. "Like the Eskimos!" We progressed to three French kissing techniques: flicking tongues, making circular motions with our tongues, and pushing each other's tongues back and forth. But beware of turning a French kiss into a penetrating tongue probe: "One error to avoid is to go too far back," we were warned, as Kale and I played a self-conscious game of tonsil hockey. "You don't want to trigger the gag reflex." How long should a French kiss last? I asked the instructor. "A minute. Two minutes. Some teenagers say five minutes."
I had naïvely assumed there were only two types of kissing — the regular and the French kind — or maybe four types, if you count Eskimo and butterfly kisses. But Cane's book suggests 30 different ways to kiss your lover, all of them more or less PG-rated. (Hands go wandering if you've been kissing long enough, even with someone else in the room.) He came up with that number after surveying people about their kissing preferences for the book. But truthfully, 30 different kisses is an exaggeration: It's more like 30 different kissing scenarios that a couple acts out together. We tried all but one of the kisses standing in Cane's living room, as his wife and 5-year-old daughter scurried around elsewhere in the house, granting us much-needed privacy. Swapping spit in front of a 60-year-old near-stranger was awkward enough, but it actually never felt creepy; Cane is as harmless as one of the teddy bears on his shelf.
My boyfriend and I went for the "machine gun kiss," where we pecked at each other's lips rapid-fire — which I dismissed as silly and unromantic. We did the "Hollywood kiss," where we stood at the foot of a staircase and I leaned back helplessly in Kale's arms like we were Scarlett O'Hara and Rhett Butler in Gone With the Wind. We did one Cane called the "Asian kiss," where we pressed lips without puckering up, looking left and right after each kiss to make sure no one was watching us. (Asians, we were told, are more shy about public physical affection.)
The "Trobriand Islands Kiss" — named for the South Sea Islands, where "everyone does it" — would entail biting each other's lips until we draw blood, pulling each other's hair, and then nibbling each other's eyelashes off. "In the South Pacific, it's actually a status symbol to have short eyelashes, because it shows you're popular," Cane claimed.
That's the one we skipped.
Instead, Kale and I spent a lot of time on ear kisses and neck kisses, which Cane found were favorites among women in his surveys. Men really like it, according to the same research, when a partner bites down on his pointer finger before kissing it. Cane has other theories, too: More than a few kisses involved Kale role-playing as different fantasy men — mostly, I was informed, for my stimulating benefit. "Guys have their own fantasy, like of loose women. That's easy to accommodate," Cane noted. Instead, Kale gamely role-played a dentist, a golf instructor, a "bad boy," a teacher ("She goes straight to heaven; he goes straight to jail!"), and a man named Joe I'm cheating on my husband with.
Despite the adultery jokes, Kale and I felt more intimately connected now that we know, in great detail, each other's most desired kisses. Like 96 percent of women, according to Cane's survey, I do prefer to be kissed on my neck.
But otherwise, my kissing technique — a little lip balm, a little tongue, a little spit — is very much the same as before the $155 kissing lesson. At least I found a new dentist.