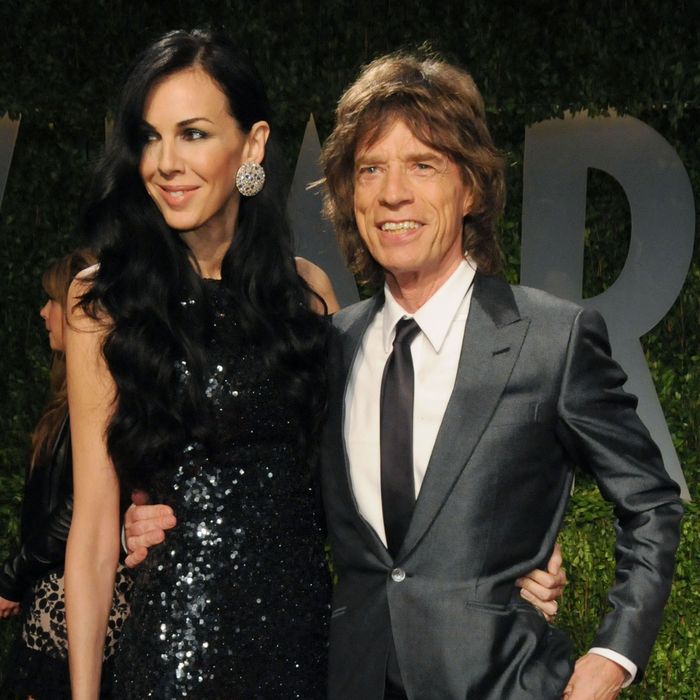 L'Wren Scott and Mick Jagger.
Photo: Gregg DeGuire/FilmMagic
Here's a surprise: Banana Republic is partnering with super-luxury designer L'Wren Scott on a holiday collection of clothes and accessories, WWD reports today. This seems out of left field for a number of reasons. First of all, Scott has previously branded her line as highly exclusive, with carefully-selected guest lists at her "intimate" fashion shows and a small but very wealthy clientele (you'd be hard-pressed to find even a blouse under the four-digit price range, and one of her recent collections featured 23-karat gold detailing). Secondly, she doesn't need the extra exposure or money — as the longtime girlfriend of Mick Jagger, she spends more of her time fending off the press than she does courting it.
It's an interesting choice on Banana Republic's end as well. The brand's previous designer collaborations have included preppy, mainstream labels like Trina Turk, Issa, and Milly; Scott's rarified aesthetic is a bit of a leap, to say the least. Banana Republic creative director Simon Kneen admitted that the partnership was "a challenge," but is obviously thrilled to have such a high-fashion name in his corner. He approached her with the idea earlier this year, wooing her over guacamole and fish tacos (and, let's be honest, probably a margarita or three) at the Americano in Chelsea.
As for the collection itself: Images aren't out yet, but it'll consist of Scott's signature ruffled blouses, jeans, dresses, and fitted jackets, priced from $39.50 to $165, including petite and tall sizes (Scott, a former model, is 6'3" in flats). Accessories will include a clutch purse with a removable jeweled strap that can be worn as a necklace ($39.50 to $198). As it's pegged to the holidays, there will be festive fabrics like brocade and velvet. It'll be available in stores and online on December 5, 2013.