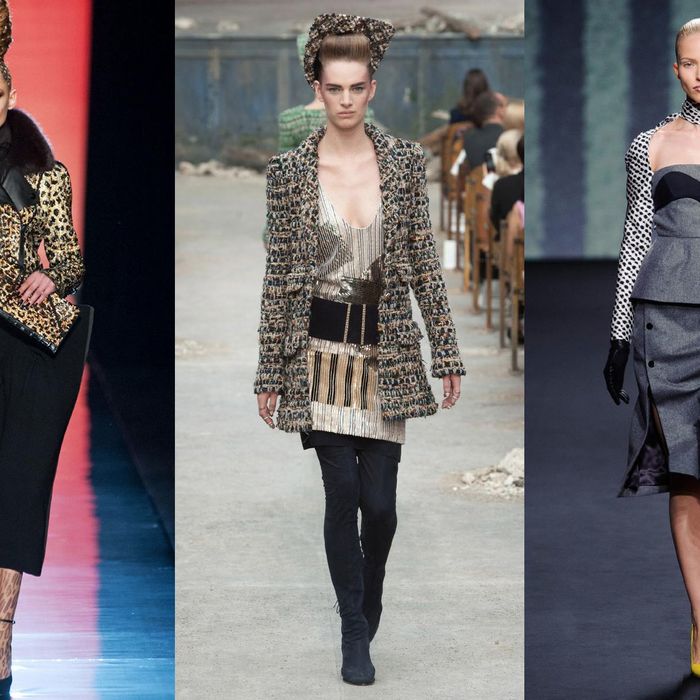 There's a gaggle of slut-Holly Hobbies sitting directly across the runway, the pack of them bathed in eerie orange light — it's couture week in Paris and you are at the Ulyana Sergeenko show, where the designer's coterie of fans, dressed in her naughty matryoshka doll ensembles, provide at least as much amusement as the fur-trimmed needlepoint dresses and flannel diaper shorts which will soon grace the runway.
No one can argue that Sergeenko doesn't have a point of view, which is always a good thing, even if her particular affection — nostalgia for tsarist Russia — makes me gag on my borscht. The models emerge from behind a cloud of billowing smoke; have the Bolsheviks burned down the cathedral?  Are these sable-clad aristos heading for the last train out of town, jewels sewn in their underpants?
The refugees on the runway at the Martin Margiela couture show will have no trouble confusing the border police, as their faces are completely covered by masks — it is difficult to even imagine how they can find their way out from backstage. I hate this, as I think it represents an attempt to dehumanize and silence women, though it is a fetish the house has promulgated for years. My antipathy colors my appreciation for the exquisite clothes which otherwise might be my favorites of the season: Sheer swing coats whose hems are laden with artificial flowers and Chinese jackets brandishing the most seductive embroideries.
Jean Paul Gaultier (above, left) divides his show space into areas named for jungle cats — I am assigned Cougar, which I can only hope does not reflect the house's assumptions regarding my personal life. The runway offerings are certainly suited to a predatory feline on the prowl. A friend quips it's Cat on a Hot Tin Rue, as leopard-infused evening frocks slink down a literal catwalk. The last beast gets a roar of approval from the audience and not just because she is falling out of her spotted animal costume. When I ask a genuine French person who that leader of the pack was, he laughs. "It Nabilla Benattia! You know, reality TV? She is our Snooki."
Raf Simons at Dior (above, right) appears to be grappling with the same question that Riccardo Tisci at Givenchy, who doesn't even show couture any more, used to have a good time exploring — namely, is there any way to make couture clothes cool and modern, not mired in moribund notions of luxury? Simons attempts to reconcile this contradiction with coats cut to seem as if they are permanently slipping from your shoulders and slender dresses whose color and patina echo the deep distinctive glow of car paint. The show features lavish screened images and the soundtrack includes "Black Skinhead" by Kanye West, which is catchy, even as it relies heavily on the very word that spiraled Paula Deen into disgrace.
At Chanel (above, center), the clothes, no matter how lovely, have a hard time competing with the set. If Karl Lagerfeld isn't lugging an iceberg down from Scandinavia, then he is installing a humongous globe to represent Chanel world domination or building a replica of Fire Island Pines. But this year beats all. Inside the Grand Palais he has created a vast wrecked theater that might have fallen victim to an air raid or been crushed in a natural disaster. The tattered curtain rises to reveal a backdrop of a futuristic skyline (Qatar? Seoul? Some imaginary place with a lot of Chanel stores?) The models wear tweed over spangles, and many garments are slung with a thick wide belt of a kind that would have suited Lulu in To Sir with Love. The last look is a bride, a trope which for decades closed every fashion show (not that Karl doesn't move with the times — last season he showed two brides holding hands). This season's model wears an outfit that is composed of a Chanel white tweed coat in front and enormous puffs of tulle trailing in back. It is certainly nutty, and even thought-provoking in a weird way, though in the end you leave this ruined rialto humming the scenery.