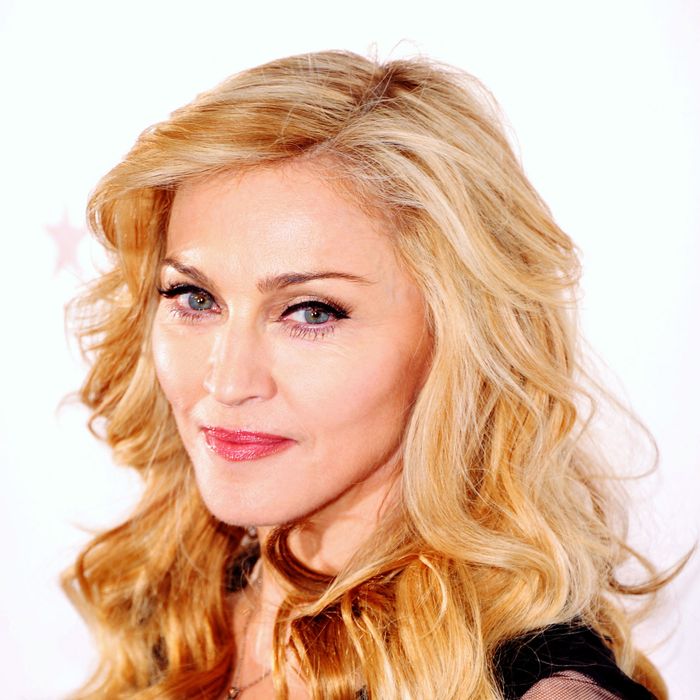 Photo: Stephen Lovekin/Getty Images
It has been exactly 30 years since Madonna exploded into the public consciousness with her debut album Madonna, and what great years they have been. Is there a woman out there more impressive than she is? Madonna is the top-selling female artist of all time. She has a son named Rocco. One time she was interviewed by Norman Mailer and he kept wanting to talk about feminism's discontents and she subtly made fun of him the entire time and he did not seem to get it.
However, being Madonna is not easy. And how does she do it? She is 54 years old and she had to wear a crucifix on her butt at the Met Ball. Literally no one has ever done that before, and perhaps no one will ever do it again.
So, while Madonna's actual accomplishments are too much for the modern human to even contemplate, it would be nice to have her biceps at some point in my life. In that spirit, I decided to attempt Madonna's apparently draconian fitness and nutritional regimes. There is no time like the present to do something truly ambitious with your life.
Preparation:
Madonna follows a very strict macrobiotic diet that abolishes the consumption of wheat, eggs, meats, and dairy, and extolls the benefits of something called "sea vegetables." You were expecting this woman to mess around? She does not mess around.
In order to follow Madonna's actual diet as closely as possible, I buy a cookbook written by Madonna's former private chef Mayumi Nishimura (who now is a sort of public apostle of macrobiotic living). It is appropriately titled Mayumi's Kitchen and details various macrobiotic meals she used to serve Madonna and Madonna's starving passel of backup dancers. Madonna wrote the foreward to the book. I am going to follow Mayumi's "10 Day Detox Diet." I hope it won't kill me. Some of the recipes, like "Tofu Tartar Sauce" and "Sauerkraut With Thyme," sound a little suspect. I plan to do some of the recipes out of order for this reason. I want to save the sauerkraut until the bitter end, for example.
I also purchase Madonna's series of workout DVDs, as one cannot be the Queen of Pop without a punishing fitness regime.  I am a little worried, because Madge is in such good shape. Her trainer Nicole Winhoffer said she has to put her in "really odd positions" before she even feels an exercise. Madonna actually owns a series of gyms in bad-ass places, like Moscow and Mexico City. They are called "Hard Candy Gyms." The DVD series is called "Addicted to Sweat," which I am not.
If I am going to be honest, this is altogether the strictest diet Veteran Dieter Rebecca Harrington has undertaken. Will it be horrible? Or will it be as awesome as the time Madonna eviscerated Mike Myers in Interview magazine? (Madonna: "Would you ask me some questions that have a resonance to my life? This interview is mostly about what you're interested in: toys and hockey?") I simply don't know.
Day One:
I start the day with a nourishing portion of miso soup and brown rice. I was worried I would not have the stomach for miso soup in the morning, but I really enjoy it and it's rather filling. It's so filling that I skip lunch and don't eat until dinnertime, which is a stew of barley and seaweed. It is not very good and I sort of regret I missed out on the soy meat and spiral rice pasta of lunch. But do you think Madonna engages in regrets of this nature?  This is a woman who wrote a song where the chorus goes "I'm not your bitch / don't lay your shit on me." In the background of this chorus, she whispers, "Handle it." So, no, I don't think she would.
Day Two:
In order to give your "stomach a break" from the tremendous strain of sea-vegetable barley stew, Mayumi suggests that you start off day two with a heaping portion of steamed greens and a Fuji apple. I am getting a little hungry now, I must admit. I am seeing the puritanical nature of this diet. A woman cannot survive on greens alone.
I keep wandering around New York City listening to "Papa Don't Preach" to take my mind off my all-encompassing hunger and it strikes me how revolutionary Madonna was. Did you know that Madonna dedicated that song to the pope because she hated "male authorities"? And the pope is called "Il Papa" in Italian! (Clever!) I mean what pop star even cares about standing up to the Pope now? Or male authorities? Pop stars today are just like, "Male authorities, how am I doing? Am I the prettiest? You tell me!" or "Where is the pope? Is he on a bus? I am going to visit him!" Madonna got it.
Day Three:
Today I decide to do my first "Addicted to Sweat DVD." I am so scared. On the outside it has a massive picture of Madonna, like Stalin, looking beautiful and addicted to sweat. She is presiding over a tiny graphic of a woman (it's Nicole, Madonna's personal trainer, I find out later) doing an insane move where she holds the back of her foot near her head. When I actually put the DVD on, it does not mention Madonna, play her music, or feature her in any way. The whole workout stars Nicole in what seems to be a Russian warehouse doing incomprehensibly difficult dance moves. She keeps jumping and there are a lot of "ball-changes" going on. Madonna is only implied.
Later that day, I make something called tofu tartar sauce which is just tremendously disgusting and lumpier than it should be because I do not have a blender.
Day Four:
One time Madonna told Spin's Bob Guccione Jr. that "straight men only think about how you may dominate them in some way and make their dicks shrivel up or something." In that aggressive yet very fun spirit, I start my day off with corn in a plum-paste sauce. It is good, actually. It gives me a sugar rush because I have not had sugar for several days, even in plum-covered-corn form.
Days Five and Six:

Madonna, at least in her younger years, took time off from her rigorous dieting schedule on the weekends and ate whatever she wanted. In honor of her, I do the same, but the truth is, I am basically dying on this diet. I don't know how Madonna lives. It is so hard to give up all those foods. Literally every food! It is not Mayumi's fault. She is doing the best she can with tofu tartar sauce, but there is just not all that much you can do.
Day Seven: 
Back on the diet, I have to make tofu cheese for a quinoa salad I will consume in three days. Why do I have to make this cheese now? Because the tofu has to be spread with miso and kept in a sealed container for three days so that it rots a little, not unlike cheese! Spreading this tofu with miso is actually hard. I am so hungry I eat a little of the raw miso .
Later, I decided to go out to (macrobiotic!) dinner with a friend who notices I keep really cleaning my plate on this diet in a compulsive way I never do normally. "It's like you are starving!" he says. I feel like I am starving but I am definitely not. I am eating food. I am just hungrier than I have ever been. I mean, as old Madge once said, "How can you be LIKE a virgin?" So how could it be LIKE I am starving? I am not actually starving, I don't think.
Day Eight:
Today, I decide to have a macrobiotic dinner party. I invite all my usual friends who seem decidedly unhappy about this new theme. I decide to make Mayumi's sweet-and-sour tempeh and brown rice with almonds on it, with a side of sauerkraut. Guess what? Everyone loved the sauerkraut, which I bought from a store. It was universally acclaimed as the best dish there.
Days Nine and Ten:
It is the end of the diet! And in celebration I do my last "Addicted to Sweat" DVD, called "Jawbreaker Chair: Dripping Wet." I was so scared of this DVD the whole week that I actually hid it in my couch. Finally, I found it in my couch and played it. It was so hard! It involved doing push-ups with your feet on a chair.
I saved the tofu cheese for my last meal on the diet. It has been rotting in my fridge relatively unmolested for three days and now it is time for its moment in the sun. I combined the tofu cheese with quinoa to make a gross salad. The tofu cheese tastes surprisingly like tofu, yet combined with quinoa it has an odd granularity. I am supposed to finish the diet with a tofu scramble, but I can't even do it. I have some fried chicken instead.
So, in conclusion, is Madonna's diet hard? You bet your ass it is. Is it fun? No! Do you have to eat sauerkraut? Yes! But what I really realized is that Madonna is a feminist revolutionary and it's hard to be on a revolutionary's diet. She danced in a wedding dress! She called David Mamet a chauvinist! She made a sex book called Sex! Paul McCartney may have suspiciously brown hair but no one says he tries too hard to be young! I guess the question is this: did Susan B. Anthony eat sauerkraut every day? Probably she did.