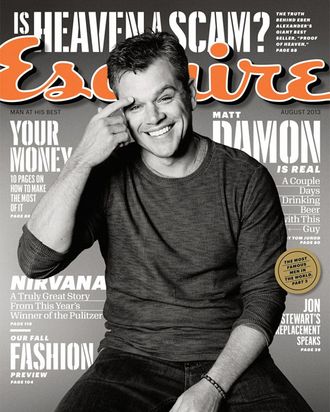 Matt Damon is Esquire's August cover subject, and as is now traditional in these sorts of venues, he ruminates on the properties of fame. Because he "fell in love with a civilian," he avoids the paparazzi terror associated with Brangelina:
I got lucky, I fell in love with a civilian. Not an actress and not a famous actress at that. Because then the attention doesn't double — it grows exponentially. Because then suddenly everybody wants to be in your bedroom.

I remember telling [Brad Pitt] that I walk my kids to school, and his face just fell. He was very kind, but he was like, 'You b-stard.' Because he should be able to do that, too. And he can't.
Renowned fame-ruminator Tom Junod wrote the cover story. Title: "Matt Damon Is Real." Excerpt: "Let's face it, the guy is ridiculous. He's ridiculously handsome. He's ridiculously accomplished. He's ridiculously smart. He's ridiculously kind to those in need of his kindness. He's ridiculously funny."