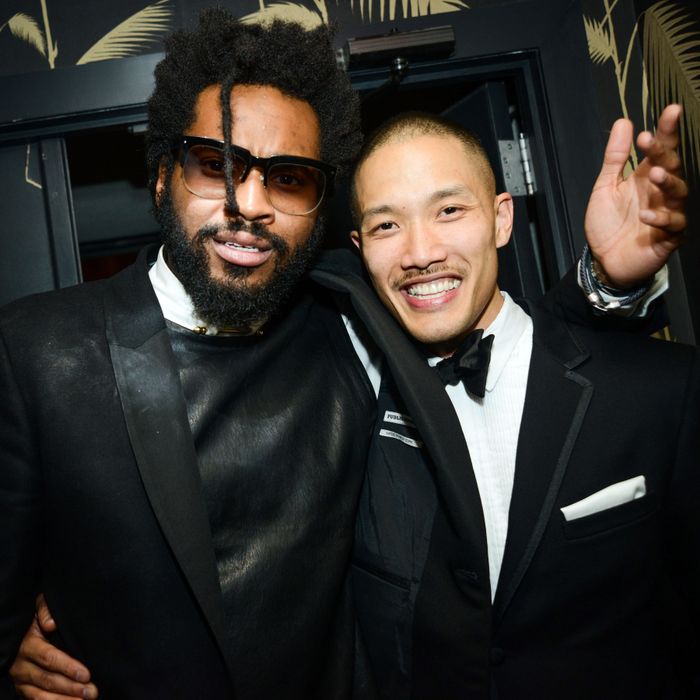 Maxwell Osborne and Dao-Yi Chow.
Photo: Carly Otness/BFAnyc.com/BFA NYC
Dao-Yi Chow and Maxwell Osborne barely have time to eat their salads. It is 2 p.m. on a muggy Thursday, and the designers are hunched over takeout boxes at their publicist's showroom in Soho, shoveling bites of chicken and lettuce into their mouths with chopsticks. They've just flown back from the Paris menswear shows, where they presented their latest collection for Public School, the small men's label they started in 2008.
Even though their mouths are full, both men greet me cheerfully. It's a great day for them: Just the night before, they were named as finalists for the CFDA/Vogue Fashion Fund. If they win, they'll get up to $300,000 in prize money, as well as valuable business connections. This comes just a few weeks after they won the Swarovski Menswear Award at the CFDAs, which was a shock to them both. (When Osborne got to the microphone onstage, his first words were "Holy shit!")
Both born and raised in New York City, Chow and Osborne look the part: They're stylish, relaxed, and masculine, but you'd never describe them as "coiffed" or "dapper." And their brand provides a streetwear-inspired alternative to the preppy, bowtie-wearing crowd that's dominated menswear over the past few years. Chow, 39, is married and has two young children. He's dressed in a fitted black shirt and chinos. Osborne, 30, wears a gray American Apparel T-shirt and black pants that look like a pair of loose shorts with a closer-fitting layer underneath. Both wear slick black sneakers.
The designers first met when they worked together at Sean John, Puff Daddy's clothing line, in the early aughts (both still refer to their former boss as "Puff"). Chow eventually became the label's creative director, while Osborne oversaw all woven design. Chow left in 2005 to launch Arrive, a Miami-based men's retail store, but they kept in touch.
The idea for Public School was born out of frustration: "We were walking through a showroom one day, talking about what we were excited to wear as individuals," says Osborne. "And we were like, 'Shit, there's nothing really here. What the fuck are we doing? Let's start a brand.'"
Several months of sleepless nights followed as the pair worked out of Chow's apartment in Soho. "All I remember is all the ramen and McGriddles we ate during that time," Chow recalls. They were self-financed and kept to a lean budget, but the independence meant they could move at their own pace. "Being naïve was actually great," says Osborne. "If we'd known what we were getting into, we probably wouldn't have started it." Adds Chow, "We had a lot of luck on our side. Whenever people ask us for advice on starting their own line, we usually try to talk them out of it."
The line's name is a reference to their respective childhoods in New York City. Chow went to PS 69 in Jackson Heights and then Stuyvesant for high school, while Osborne went to PS 41 in the West Village. "I was sort of a floater," says Chow of his school years. "I was never just a goth kid or a hip-hop kid, or a jock. And that's what our label is about — this idea of convergence, bringing different worlds together and still making it feel genuine."
What results is a relaxed combination of streetwear and suiting — a more urban take on the high-low mix that the fashion industry often extols. "The look is modern, edgy, tailored sportswear," says Chow of their relaxed knit pants, leather jackets, and ombré-dyed flannel shirts. "Our customer is the 28-to-45-year-old male who's well traveled and appreciates high-low references, from music to food to film." While their look is commonly described as "downtown," don't tell them that. "It's too clichéd," Chow explains.
So what's next for them? Chow makes a "W" shape with his hands, and grins at Osborne. "I say women's," he says. Osborne shakes his head, and Chow laughs, adding, "He's a little reluctant. But women's is definitely our next big move." What might their female customer look like? "She'll definitely have the same aesthetic as our male customer," he says, declining to give a time line. Chances are they're waiting to hear about the CFDA/Vogue Fashion Fund prize, which could help them get it off the ground. "We're still working it out. But we know who she is — she's modern, sophisticated, and edgy."