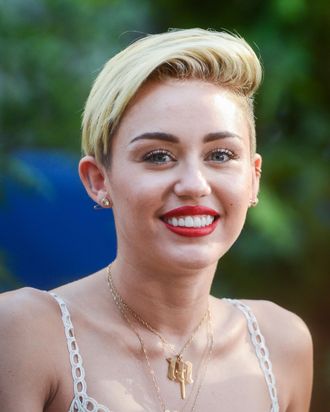 Photo: Ray Tamarra/Getty Images
Nearly a year after Miley Cyrus debuted her short blonde hair on Twitter, it appears she's living up to an early theory of the Cut's: Her punk-rock hair is a self-fulfilling prophecy. Her pixie has totally changed her life, she says, in an interview with the Toronto Sun. For most, like Keri Russell on Felicity, Britney Spears, and all the women who have embraced shorter hair, it signals a desire to enter the next stage of life or the shedding of a former identity. It's true for Cyrus, too. Except, she says, it was totally unintentional: "No one would have planned a haircut to change my life. I didn't plan a haircut to change my life. I just cut my hair and then it really changed my life." All right then.

So what's different in the new Miley era? Well, she allegedly sings about molly, has learned to twerk, and has a new wardrobe of crop tops, granny-panty shorts, and thigh-high boots. You see, according to Cyrus, her hair has given her much more confidence. And so has sapphic name-calling, since more people now accuse her of being a lesbian. "I'm not offended. You can call me much worse. I've been called much worse. Being a lesbian is a compliment more than what else they call me."
In fact, her hair has made her even more comfortable with her sexuality: "People think short hair, they think tomboy … and I've obviously done the opposite 'cause when I cut my hair, I did my first Maxim cover where I got No. 1 (in their annual hot list). And it wasn't about me being the sexiest. It was about the fans voting. But it's something I loved. I don't think I've ever seen a Maxim cover with a girl with short hair." There you have it: trailblazer.