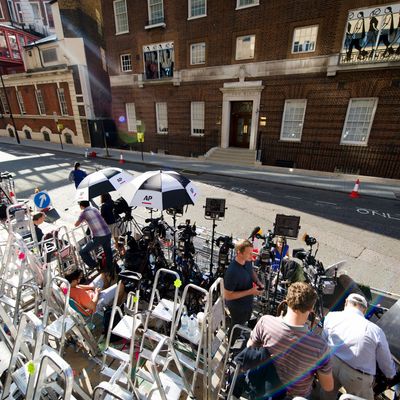 Photo: LEON NEAL/AFP/Getty Images
What began as joyous anticipation of the royal baby, perfectly timed to coincide with the otherwise sluggish summer news cycle has now devolved into an extended holding pattern. Even the Queen has expressed her impatience for the baby to hustle up, saying she'd "very much like it to arrive" before she goes on holiday next week. Meanwhile, the journalists who flocked to their special press pen outside the private Lindo Wing (now dubbed the "#LimboWing") of St. Mary's Hospital are approaching the third week of their stakeout (#GreatKateWait), where the mood has progressed from excited to restless to downright batshit crazy.
With nothing better to do than sit around and stare at the hospital's frosted windows, journalists have resorted to sending impatient tweets from the front lines. (And should you be curious about how boring it really is over there, check out the multiple live feeds.) Below, a sampling of what the royal baby watch has become:
The Daily Express's Richard Palmer likened the stakeout to Vietnam.
While NBC's Natalie Morales grumped about her bad view …
And then posed for other bored news outlets, who took pictures of her knitting.
CNN's Max Foster, clearly low on blood sugar, resorted to photographing random notices around the press pen.
Others entertained themselves with royal-baby-themed video games.
There was theft!
And weirdos dressed up as royalty!
And latent anger issues.
Sky News sent cryptic messages about helicopters that, sadly, did not contain Kate Middleton.
And veteran journalist Arthur Edwards reminisced about Prince William's speedy birth in 1982.
At the end of the day, everyone was just happy to have company. Nothing justifies a long wait like knowing you're not the only one who cares.