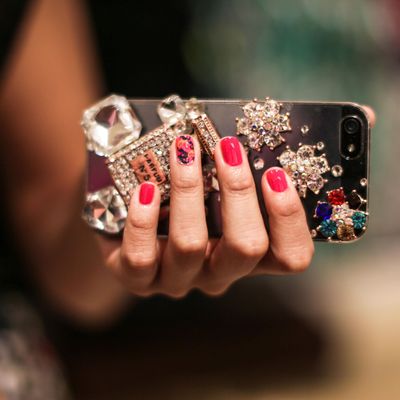 Photo: David X Prutting/BFAnyc.com/BFA NYC
Today WWD shared news that the rate of nail-polish sales has slowed to half of what it was last year. Does that mean we're finally done with nail art? Not quite yet, according to the figures. Numbers are still high (sales grew by 19 percent), but the pace of growth is down overall, even as beauty retailers (i.e. Sephora) and drugstores are dedicating space and money to nail-art-specific lines. But! The real indication of the wheezing trend is that the fashion world is so. over. it. ready to go back to the basics.
As Racked points out, the industry that was once infatuated with intricate nail designs has basically had enough. "Marc Jacobs declared that his favorite nail polish color is clear. Anna Wintour recently published an essay penned by self-professed nail-art addict Eva Chen about the former Teen Vogue beauty editor's personal nail art detox." Jin Soon Choi, editorial manicurist, told WWD, "I feel a bit tired of all the gimmicks." So we're all in agreement here, Serena Williams? We're done with it! If you need some inspiration for a chic, bare, non-nail-art nail, look to designers who have already embraced simplicity, like the bare nail at Céline, or Narcisco Rodriguez's nude look by Deborah Lippman. But if you can't let go quite yet, Jennifer Lawrence's pedicure at Comic-Con will give you your fix.