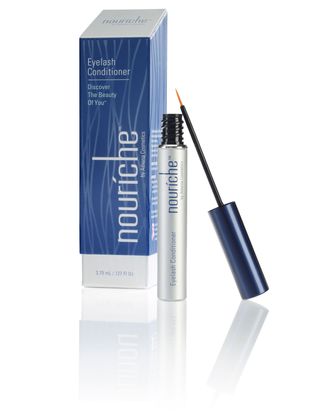 The eyelash extender known as RevitaLash gained fame for its relatively easy availability; unlike Latisse, it was available without a prescription. The company's proprietary peptide and botanically based formula mimicked the effects of Latisse's prostaglandin, the drug used to stimulate eyelash growth. And after sixteen weeks, RevitaLash users saw thicker and fuller lashes.
Owing to these excellent results, RevitaLash was taken to court by Allergan (Latisse's parent), claiming that Athena Cosmetics (owner of RevitaLash) was violating California's unfair competition law. Their product was too good and too similar, which gave Allergan just cause. RevitaLash was taken off shelves, never to be seen again in the United States.
Well, kind of: Athena Cosmetics' newest product, Nouriche Eyelash Conditioner, uses a peptide and botanically based formula that is meant to "reinforce the healthiness" of your lashes. Using a liquid-liner-like delivery system similar to its predecessor's, you apply the non-irritating clear conditioner nightly to your top lashes. After sixteen weeks or so, you'll notice the hairs look healthier, shinier, and prettier. The company cannot claim that users of the OTC $130 lash serum will notice growth and density, but don't be surprised if that's what you get.