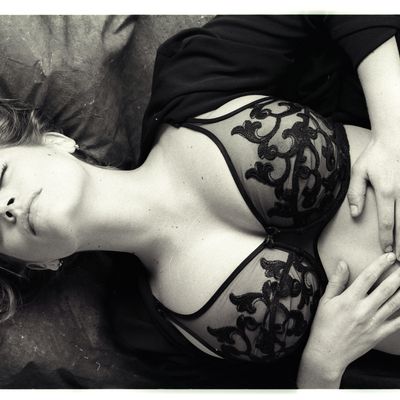 Photo: Courtesy of Promincor
Mysterious, luxurious, and culturally significant — that is the history of French underthings, or so an exhibition opening this Wednesday at the Chelsea Market aims to show. Backed by Promincor, the French association of lingerie, the show has been on tour in Paris, London, Shanghai, Dubai, and Berlin, and it is topping off its year abroad with a stop here in New York, ending August 6.
This exhibition is comprised of 210 total pieces — ranging from the nineteenth century to modern lingerie prototypes of the late-twentieth century — each of which will be on display, along with a social and historical chronology illustrated by images and videos. Viewers will be able to connect the relaxed, lean figures of the late 1910s and early twenties with World War I and the flood of French women joining the work force, a step of sorts in the French suffragist movement. Another highlight is the "trans-historical striptease" — a life-size hologram that illustrates the evolution of lingerie as the fashions of each period shift the female silhouette.
The lingerie manufacturers in this exhibition include Aubade, Barbara, Chantelle, Empreinte, Implicite, Lise Charmel, Lou, Maison Lejaby, Passionata, Princesse tam tam, and Simone Pérèle, each of whom donated from their historic archives. Click on to see some of the beautiful pieces that will be on view.