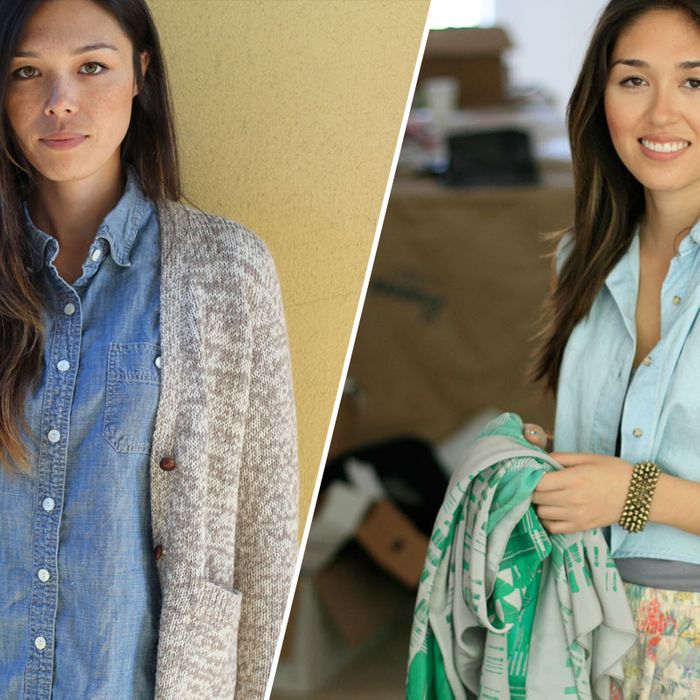 Photo: Courtesy of MCMC Fragrances
Anne Serrano McClain (left) and Katie McClain are the sisters behind Brooklyn-based perfume company, MCMC Fragrances. Anne is the scent designer while Katie handles the business side of things, and together they hand-bottle every perfume. With normal skin types and a spray of freckles across their nose (thanks to their part-Irish heritage), Anne prefers a pared-down, simple routine with fragrance-free products — unlike her nostrils, her skin is sensitive to scented ingredients — while Katie opts for multiple department store products and an alternating nighttime cleansing routine. Despite their differences, they're both adamant about sunscreen usage, so click below to compare their routines.
Anne Serrano McClain:

Cleanser
I always use something that doesn't foam, because I find the foam dries out my face. So right now I'm using 365 Daily Facial Cleanser from Whole Foods. It's just a gentle skin cleanser that's fragrance-free. I'll use that in the morning and at night.
Toner
I always use a Mario Badescu Glycolic Acid Toner after I wash my face, morning and night. The one thing I do have is a ton a freckles and I'm prone to sun spots. My sister was the one who recommended this toner, because it helps with the dark spots. I use that morning and night.
A.M. Moisturizer and SPF
During the day, after I was my face and use the toner, I use Kiehl's Super Fluid UV Defense, which is SPF 50. I've always known that I should use a SPF on my face, but I was always lazy about it, then I got pregnant and all my freckles literally turned ten shades darker, so now I use the Super Fluid UV Defense. You just put a very thin layer on, then I use Embryolisse. I use very little of it. You can really feel it going on, it's very thick and creamy, but I feel like it absorbs right away and doesn't leave anything on your face. So many moisturizers you can feel it sitting like a coating on your face, but this one doesn't feel like that.
P.M. Moisturizer
At night I'm a really big advocate of oils; right now, I'm into Dr. Alkitis. He farms all his own herbs and makes a whole skincare line. There's face wash, eye cream, and everything, but I use the Organic Nourishment Treatment Oil. I don't use it during the day because it's a little bit greasy.
The Extras
Sometimes I use a mask, the Origins Clear Improvement charcoal one. Not in a routine way, but every couple of months. Or in the summer sometimes, you can feel extra greasy, so I use it when I feel like I might break out. I'll put that on because it kind of dries it out and cleans it really deep. I don't use eye creams, surprisingly. I just rub the treatment oil around my eyes. No exfoliators either, because I use a bristly washcloth at night, a few times a week.
Katie McClain
A.M. Cleanser
In the morning, I wash with this bar of soap, I don't actually know the name of it, I got it as a sample. I just started using it with this little glove that I got in Japan, you can stick three fingers in it — it's like a micro scrubber rub. I feel like, if I didn't use that, I wouldn't get my skin as clean as I do. Before that I was using the Mario Badescu Acne Facial Cleanser with the glove.
A.M. Moisturizer
I put on Shiseido Urban Environment Oil-Free UV Protector SPF 42. It has a high SPF and I'm just trying to be really careful about sun protection. It's not greasy at all and feels really light. Sometimes with SPF, when I put it on, I feel like it's so white … this one's not like that.
P.M. Cleanser
I usually rotate every other night. The first thing I do both nights is use Shu Uemura Pore Clarifying Gentle Cleansing Oil to get my makeup off. Then I wash my face with Kiehl's Rare Earth Deep Pore Daily Cleanser. I use that with the little glove that I got in Japan. On the [alternating] night I use the same Shu Uemura oil to get my makeup off, and then I'll use Ren Micro Polish Cleanser. It's the best thing ever. It has little scrubby things in it, but they're really small and gentle and they dissolve while you're washing your face. It also has glycolic acid, so it helps if you have sun spots.
Toner
Only after cleansing with the Ren polish, I'll use Mario Badescu Glycolic Acid Toner. I went to Jamaica recently and when I got back I felt like I spent too much time in the sun and I could see some dark spots on my face, so I've been using a lot of glycolic acid stuff and I think it's been helping.
P.M. Moisturizer
I put on this prescription called Ziana gel. It helps combat wrinkles and corrects dark spots and curbs acne. I put it all over my face after I wash. The thing about the gel is that I don't use it every night; if I do, I feel like my skin gets too dry, so I only use it every other night. Lately, my skin has been feeling a little dry after toning, so I'll put on Algenist Regenerative Anti-Aging Moisturizer. It's nice and light.
Eye Cream
Then I put on this Nuxe anti-aging eye cream because it's very light, not greasy at all. It absorbs straightaway, so it's not sticky or thick.