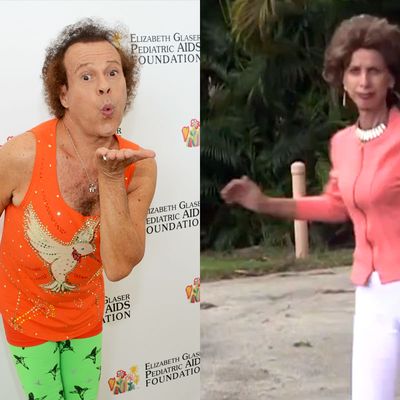 Prancercise guru Joanna Rohrback's first big magazine profile is in this week's Broward-Palm Beach New Times, and it is as magical as her joyously frolicking fitness routine. At one point Rohrback performs a Prancercise routine in a casino parking lot, prompting writer Terrence McCoy to ask if she's embarrassed. "Embarrassed?" Rohrback replies. "If my camel toe doesn't embarrass me, why would this? I'm not embarrassed at all!"
But the most stirring moment occurs when McCoy asks Richard Simmons to weigh in on Prancercise:
"If you look at a lot of [fitness] videos out there, it's only tough-looking people going harder and faster and stronger. But with Joanna and I, it only leads to smiles and rainbows — not thunder."

Simmons, speaking from his Los Angeles residence, began to weep into the telephone and took several deep breaths to calm himself. "You can tell that what Joanna does comes from her soul, and that's what makes her stand out. She's precious. If she was here, I'd do her nails."
Today Rohrback is busy spreading the joy of prance and waving off her "neighsayers. Get it? N-E-I-G-H." She's battling a suspected conspiracy involving "jealous" Jazzercise and Zumba. "Jazzercise is the arch nemesis of Prancercise," one of her friends adds.
But Rohrback's spirit and vision remain undaunted. Gazing at the horse track at a south Florida casino, she muses, "Let me tell you what I see when I see this. I don't see people enslaving horses running them around the track. I see 100 people Prancercising to Motown in unison. Wouldn't that be wonderful? Wow, just imagine. It can really happen."