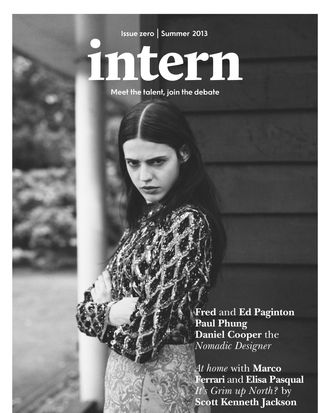 Photo: Courtesy of Intern Magazine
A funny thing happens when non-interns talk about interns: We end up talking about work ethics and entitlement instead. Are workers entitled to pay? What are you entitled to when you work without pay? We preface our answers with what we did when our careers were new. But what of the interns themselves?
When British 29-year-old Alec Dudson's career was new, he worked full-time at a bar while sleeping on couches in London to support his unpaid internship at Boat magazine. He'd also done a low-paying internship with Italian design magazine Domus, and though both were "overwhelmingly positive experiences," he came out of them no closer to a full-time job. "I was in a sink-or-swim scenario," he tells the Cut. So he decided to launch his own publication: Intern, a magazine about the modern plight of interns, created by interns worldwide.
He launched a Kickstarter campaign to fund the magazine's first issue, and he's now more than halfway to his $8,400 target. That figure would cover modest payment for contributors as well as distribution, both through online retailers and the stores in New York, Berlin, Taipei, Warsaw, and London that have already requested Intern. To promote the Kickstarter, Dudson created an Intern "Issue Zero," a preview demonstrating his plans for the 100-plus pages he'd like to make.
Dudson is unapologetically political in interviews. "Creativity is not a birthright," he told Vice, protesting the class-stratifying effects of unpaid internships. But Intern "Issue Zero" is a surprisingly dreamy affair. Dudson's contributors document their own halting forays into creative fields and invite elders to reminisce on the beginnings of their careers. The result is alternately hopeful and frustrated, tentative and boastful. Or as modern bard of young adulthood Taylor Swift might say, "it's miserable and magical."
"This sample paper acts as our first steps, our statement of intent, and our insistence that you sit up and take notice of the rich pool of talent that is bursting at the seams," Dudson writes in the Editor's Letter. Click "Begin Slideshow" to see and read samples.