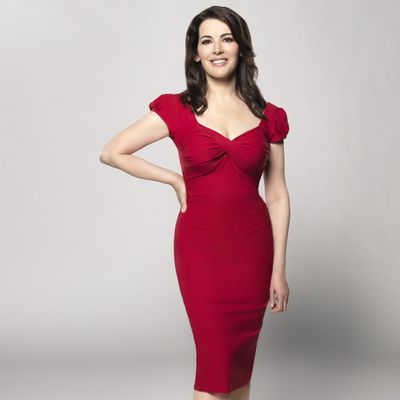 Photo: Sasha Shemirani/ABC via Getty Images
The macabre spectacle of Nigella Lawson and Charles Saatchi's estrangement crossed another milestone this week when the ad tycoon art dealer announced the couple's divorce in the pages of the Daily Mail, beside quotes from an anonymous "friend" about their relationship. But even as Nigella's fans rally around her, the domestic goddess remains silent — while "PR genius" Saatchi continues a vigorous media campaign to explain away photos of him with his hands around his wife's neck, taken before she ran out of a restaurant crying, then packed a suitcase and left home. ("We are instinctively tactile people," Saatchi said. Nigella had a booger and he "was trying to fish it out.") Though "insiders" say Nigella is "devastated" because "in no terms did they break up or even discuss the D-word," her fans are celebrating. "Good riddance," they say. "Good move!" Though Saatchi announced the divorce with a statement pinning blame on her, Nigella's fans want to believe she left him. They want her to rise up, get revenge, and get her groove back.
But what does she want? And how much can we ask of her?
Emotional responses to the lives of celebrities, we all know, are illusory. Fans don't actually know their idols; they are not friends. But for "lifestyle gurus" of Lawson's ilk, the imagined intimacy is often part of the bargain. Her fans power millions of dollars of profits in book sales and TV ratings; she allows them to pretend they're hanging out with their good friend Nigella, snacking on bon-bons in a telegenic kitchen. Fans may even imagine they are Nigella Lawson, when they learn How To Eat as she eats, How to Be a Domestic Goddess like her. She has an "intimate manner" that makes newspapers fall back on that old cliché: "Men love her because they want to be with her. Women love her because they want to be her."
Now that the tabloids have provided an alternate domestic narrative — a distressing and all too familiar one — the public is reasonably having trouble letting go. Some are worried about our imaginary good friend Nigella. After years of projecting her life onto theirs, others want to see her to act as they hope they would in a similar situation. That could mean leaving Saatchi and suing him; it could mean repairing her marriage. "Like it or not, Ms. Lawson has become, for some, a symbol of the insidious nature of spousal abuse, an example, in their eyes, of the victim who does not realize she is a victim until outsiders frame her situation that way," Sarah Lyall writes in the New York Times column "Another Star Chef Becomes a Cause." She closes the column with a quote from Daily Mail columnist Carol Sarler: "What began as graphic titillation," she said, "has started to smell altogether too much like a witch-hunt: a frenzy of speculation that is becoming as unseemly as it is unfair."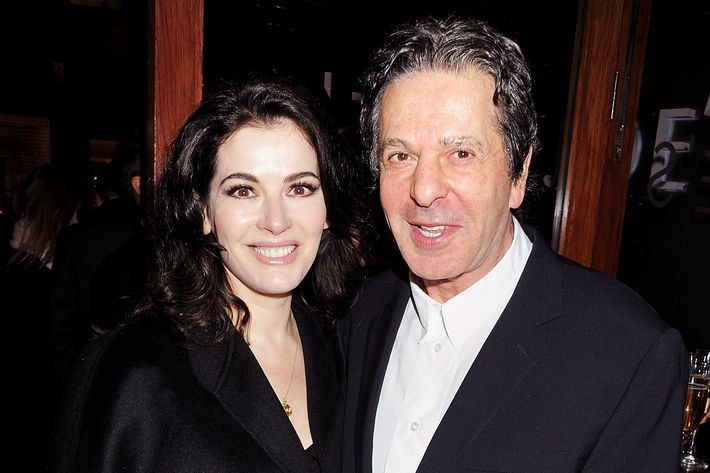 Titillation and social judgment are part of this story, sure. But the insider/outsider dynamic Lyall describes is precisely why it's more than that. Among the few things (perhaps the only thing) that domestic violence and celebrity have in common is a sense, for those on the outside, that they must know what is happening inside a third party's private life and romantic relationship. The relative importance of uncovering the truth in each context is, of course, utterly incomparable. Finding out whether a friend who says she fell down the stairs really fell down the stairs can be an issue of life or death. Celebrities don't need the public to investigate those claims for them; their real friends, the ones who actually hang out in their kitchens, are the ones who can do that.
But on some deep, instinctual level, the impulse is strangely similar. In real life, being a bystander to domestic violence means perpetual doubt, mistrust of information, and a vast fear of the unknown. Is she really telling you everything? What pieces of the puzzle are you missing? Does his side of the story hold water? Whose version can you trust? On a vastly smaller scale, these are the patterns we go through watching a story like Nigella's unfold in the press. Can we trust Saatchi's version of this story? What isn't Nigella telling us? Readers search gossip reports about the Saatchi-Lawson marriage for answers to the vast mysteries of this relationship that, like all relationships, nobody other than the two people in it can ever really know.
Living with that level of scrutiny must be exhausting. Lyall quotes a "longtime friend" of Saatchi and Lawson's who says Nigella wouldn't want this kind of attention:
The worst thing is the negative publicity — making her look like she's a victim, and also all these battered women who are now assuming she's going to be the patron saint of battered women. I can't imagine anything she would want less.
Among the many insidious psychological damages associated with abuse is the removal of a victim's control over the roles they must play in their domestic lives — servile wife, agreeable sex partner, selfless caregiver, etc. If Nigella chooses to be a hero, it would be a powerful role to take on. But until she indicates she wants and can handle hero status, it's just another role someone else is telling her she has no choice but to play. What if she isn't ready to be a hero? What if, as Saatchi says, the situation doesn't actually require one? If we praise Nigella for the split, will we feel justified in criticizing her if she goes back? As we discovered during the Rihanna-Chris Brown saga, that's probably the wrong tactic. Praising one outcome neither implies nor necessitates criticizing alternate outcomes, of course. (Nobody penalizes the bystander who fails at attempted heroism, nor ridicules the kids who lost the spelling bee.) But turning Nigella into a cause — particularly while she is actively avoiding public scrutiny — is still a bad idea. It's unfair, it's too much pressure, and it's even a little rude. Let Nigella choose her own causes. She doesn't control her husband's actions or her fans' reactions, but she does control the words that come out of her own mouth, and right now, she isn't talking.