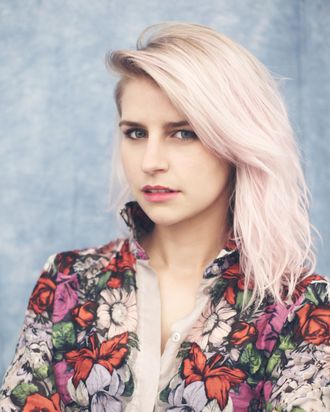 Stylist Alex Brownsell is the owner of London's Bleach, a hot salon where her signature is a "dip-dye job," in which Skittles-hued colors coat the ends of hair. "It came from people on the streets walking around with real big roots and calling it the 'recession root problem,'" she explains of the multicolored hair look. "We blended it through for an ombré tone and that just became something that everyone was having dyed in." She's also taken the rainbow-colored look to the pages of British and Italian Vogues.
In doing so, Brownsell has amassed a dedicated celebrity following: She is responsible for Florence Welch's amazing red hue and Sky Ferreira's ever-changing locks, and the salon recently whisked up Rihanna's newly grayed mane. The dip-dye helped earn the salon some new A-list customers, who keep coming back because Brownsell and her team are constantly experimenting with their hair-dying techniques. In fact, when Brownsell was recently gifted a box of Betty Beauty — an at-home coloring treatment for your bikini area (to cover grays) — everyone on the team had a good laugh. But what started as a joke has since transitioned into a new service that's available at Bleach. It's known as the "downstairs dye," wherein your rainbow-colored hair up top can now match what's down below. Recently, the Cut visited Brownsell to figure why some women love the procedure, how it all works painlessly, and when it arrive in the States.
Is this new "downstairs dye" popular?
It's a bit like Marmite; people seem to either love it or hate it. We put it on the menu for a bit of fun but it's getting to be quite popular, especially because of the summer. I've had it done, a few of our stylists have had it done, loads of my friends have been in and had it done. We've got people coming in just for a wax that are seeing it, thinking about it, and then coming in the next time asking for it. Every one of my friends who has had it done has come in for a second go.

Is it painful?
I thought it was going to be really painful, but it was fine — way less painful than on your head. Your skin is protected with a barrier cream and the bleach used is gentle, similar to facial bleach. It's then specially mixed with certain oils so it doesn't sting. It hurts less than a normal wax because your skin has been prepared. Also bleaching numbs your skin slightly, so you can't actually feel anything.

How do you dye the hair?
We have a really overqualified waxer here called Chelsea. First you pick the shape you want —  a triangle, strip, heart —  anything like that. Then Chelsea will paint the area in the shape, you don't actually dye all of it. It is then bleached, left on for ten to fifteen minutes, then wiped off and a secondary color is applied. This is a stain and only takes two minutes. Then Chelsea takes that off and does the waxing procedure as normal. It's really quick. No paper underwear, but you do have a disposable towel on top and a blanket on your legs so you're not just sitting there waiting. I found the waxing more intimate than the dyeing; the dyeing is quite chilled out.

What are some of the different styles that are offered?
We've done multicolor, pink and blue hearts — hearts are very popular — tie-dye, and leopard print. Chelsea is always experimenting and pushing it forward; she sees how the stylists dye hair and wants to try it out and it goes from there.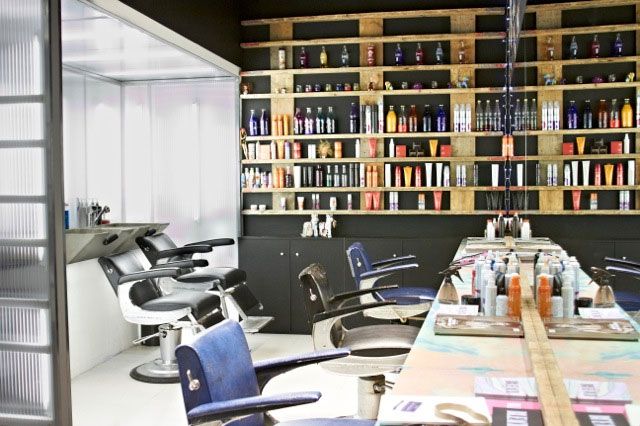 Any future plans for Bleach to expand?
We're trying to open something in New York by the end of the year. It's quite an ambitious task, but we want to have something similar to how we started here. We also have our product range coming out in October, including twelve colors, six vibrant and six pastels. We used to spend a couple of days mixing six or seven brands together to make our colors, and what we've done here is actually formulated our own product.
So when you go to New York, is it just going to be hair?
I think we'll just do hair, unless there's a demand for the downstairs dye. I don't think I could do it though. I'd have to take Chelsea.