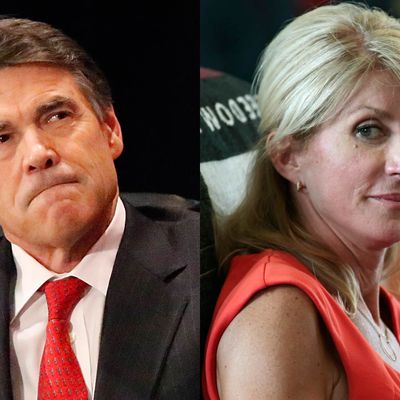 Photo: Stewart F. House/Getty Images,Erich Schlegel/Getty Images
After spending the second half of 2012 extracting party candidates' feet from their mouths, national Republican leadership is staying far away from the abortion debate playing out in Texas's state legislature, Politico reports. Neither Republican National Committee officials nor the Growth and Opportunity Project members (dedicated to avoiding a 2012 repeat) responded to Politico's requests for comment on the proposed legislation, which would ban abortion after twenty weeks and close 37 out of 42 of the state's abortion clinics. Though the state Republican Party Chairman did say that the mobilization of Democrats in support of Wendy Davis convinced the national party to give him more money to hire full-time staffers.
GOP pollsters argue that political distractions — rock star personalities, perceived bullying, rude comments — aside, most Texans support a ban on abortion after 20 weeks, when "nonpartisan medical experts say the fetus can feel pain." For the millionth time, the American College of Obstetricians and Gynecologists (a group that has a financial stake in babies being born, after all) says there is "no legitimate scientific information that supports the statement that a fetus experiences pain." No one has polled about the clinic-closing TRAP laws that would make first trimester abortions so hard to get that the twenty-week deadline would become difficult to meet.