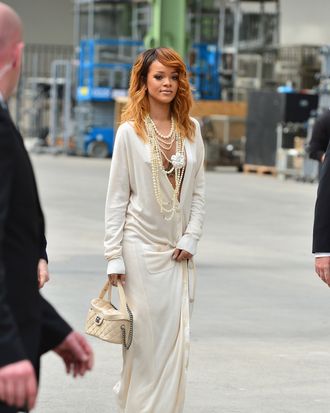 Rihanna.
Photo: Pascal Le Segretain/2013 Getty Images
Rihanna's debut collection for British label River Island was met with decidedly mixed reactions, but as contracts go, she's pressing on to the next season. Her co-designer, Adam Selman, tells British Vogue that their new fall collection was a much bigger challenge, partly because both he and Rihanna are from warm places and aren't used to covering up with things like jackets and pants. "The way I approach winter style is to layer up summer clothes and Rihanna does the same," he said. "But there are coats and sweatshirts."
The video reveals lots of camouflage prints, furry hoods, beanie hats, and varsity-style jackets. But will they actually be worn as outer layers, or as sexy bathrobe-style garments with nothing underneath?