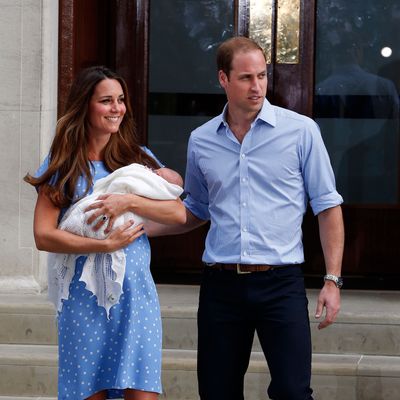 Kate, George, and William.
Photo: Lefteris Pitarakis/THE ASSOCIATED PRESS
This morning, Kate and Will left Kensington Palace by car and traveled to the Middletons' family home in Bucklebury, where they're expected to spend the next few weeks. (Kate's dress, shown below, is by Seraphine, should you be interested.) Just a few hours after their departure, the baby's name was announced by Kensington Palace via e-mail and Twitter. World, welcome Prince George Alexander Louis, also known as His Royal Highness Prince George of Cambridge! (All three of those were on bookies' top-ten lists, by the way.) Do we think they've known all along, or were they up all night debating the order of middle names? And what shall we nickname him? Boy George, anyone? Or GAL?