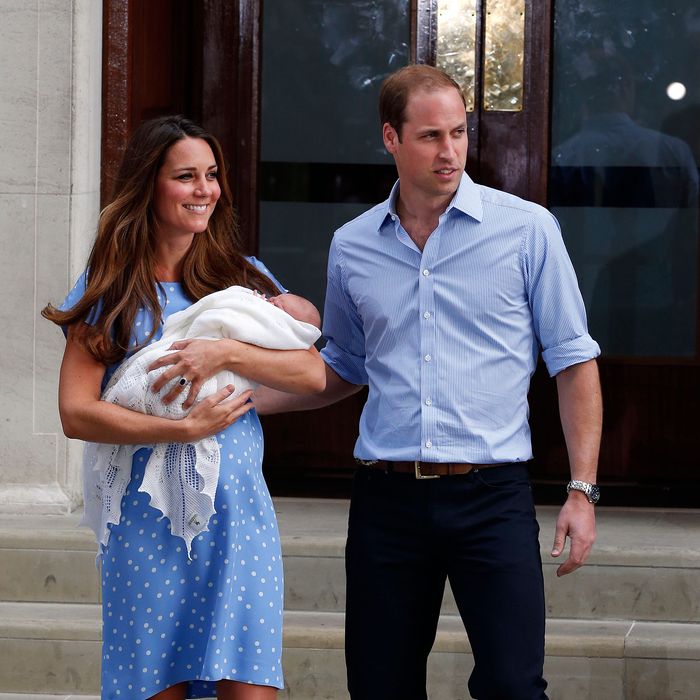 Photo: Lefteris Pitarakis/THE ASSOCIATED PRESS
The empire-waist, belly-highlighting Jenny Packham dress that Kate Middleton wore for little Prince George's world debut may not be for sale, but let's not overlook another key "outfit" from that moment: the royal baby's swaddling blanket. So far, the infant has worn exactly two in public — one while cradled in his parents' arms, and another just moments later when Prince William tucked his little car seat into an SUV for their trip home from the hospital. Both have been swiftly identified, and the latter has already sold out in the U.K.*
The first blanket, which cocooned the prince for his momentous world debut on the steps of the Lindo Wing, is the "super-fine merino wool christening shawl" by British knitwear company G.H. Hurt and Company. (The Internet says Victoria Beckham is a fan as well, and owns the same one in pink, for Harper.) Amazingly, it's still available! It might take a while for you to get one, though, according to this warning on the brand's website:
Due to a well publicised event demand for this item has increased. Lead times may be slightly longer with this beautiful shawl, but we are doing our very best to deliver to time.
But Brits who are interested in the second blanket, which is more easily identifiable because of its cute bird print, are out of luck. Made by U.S.-based brand Aden + Anais, it has already sold out in the U.K. (Update: It's still available in the States! And doing brisk business on Ebay!) It's also the more affordable of the two, at £44.95 for a four-pack.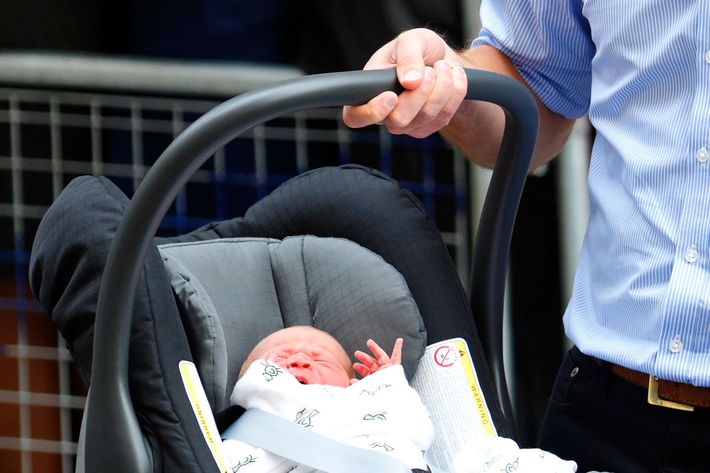 Both blankets were white, which suggests that Kate and William truly didn't know the sex of their baby before its birth, as they claimed. Anyway, presumably someone made Prince William's blue button-down, but … what's this about Issa making a version of Kate's blue engagement dress for Banana Republic?
* This post has been updated to show that Prince George's Aden + Anais blanket is still available for purchase in the U.S.